'Global significance' of Te Whare Nui o Tuteata recognised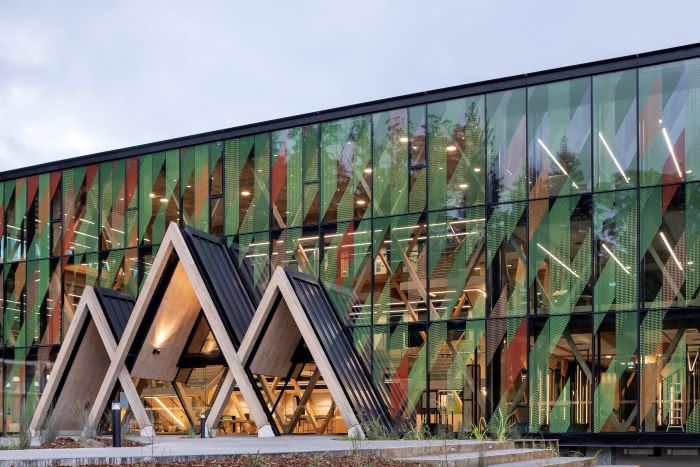 For immediate release
3 November 2023
Scion's award-winning timber innovation hub, Te Whare Nui o Tuteata, has been given another tip of the hat, this time at the New Zealand Timber Design Awards.
The prestigious awards, now in their 48th year, are run by Timber Unlimited and highlight the latest advances in New Zealand's timber construction capability. The winners of the 12 categories, plus a supreme winner, were announced at a gala dinner in Auckland on 2 November 2023.
Te Whare Nui o Tuteata won the Sustainable Development Award and was highly commended in the Innovation Timber Engineering Award category won by Nelson Airport.
The Sustainable Development Award celebrates buildings that have achieved low environmental impact and enhance New Zealand's unique society and environment, while the Innovation Timber Engineering Award honours engineering and construction innovation that maximises the use of timber with exciting solutions.
Judges for the Sustainable Development Award sang the praises of the building designed by Irving Smith Architects, RTA Studio & Dunning Thornton Consultants.
"[The] building represents a global shift in the way buildings can be designed, prefabricated, assembled, and disassembled," one judge noted.
"The timber diagrid structure provides a visual aesthetic that brings warmth and expression to the interior."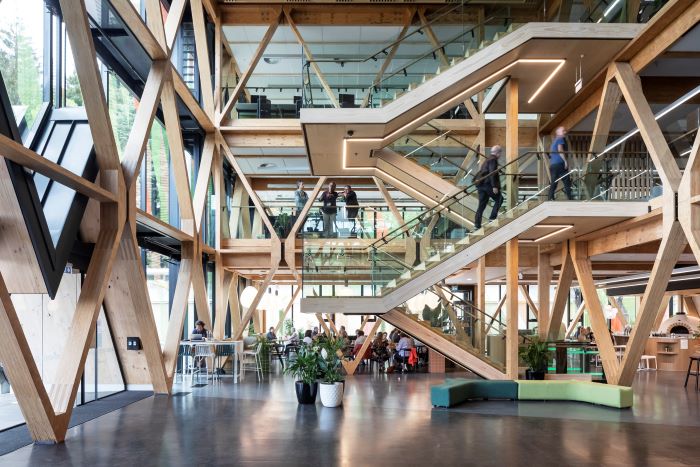 The second judge said: "This building shines a light towards the future of timber construction in Aotearoa New Zealand and will help pave the way for ways of designing and building with wood that make use of a wide range of materials and available technology for creating timber buildings."
A judge in the Innovation Timber Engineering Award category said the highly commended Te Whare Nui o Tuteata was of "global significance".
"The innovative structural engineering design of this project is based on a deep understanding of timber properties and how timber buildings can be prefabricated and pieced together to form extraordinary buildings."
Another said the building "set out to explore the frontiers of timber engineering".
Scion chief executive Dr Julian Elder said "we are very proud of Te Whare Nui o Tuteata".
"Not only is it a beautiful building that is fantastic to work in it is a great example of the innovative engineering and sustainable low-carbon construction that the Timber Design Awards are celebrating. New Zealand needs to build more buildings like this so we can reduce embodied carbon in our built environment and meet our 2050 net-zero climate change commitment."
The building's name means the great house of Tuteata and was gifted to Scion by the three hapū who are tangata whenua here - Ngāti Hurungaterangi, Ngāti Taeotu and Ngāti Te Kahu. Tuteata is their ancestor.
It was officially opened in 2021 by then Prime Minister Jacinda Ardern, has pioneered sustainability and design using engineered wood products and won several domestic and international awards. The design uses a diagonal-grid (diagrid) timber structure and was embodied-carbon neutral at completion.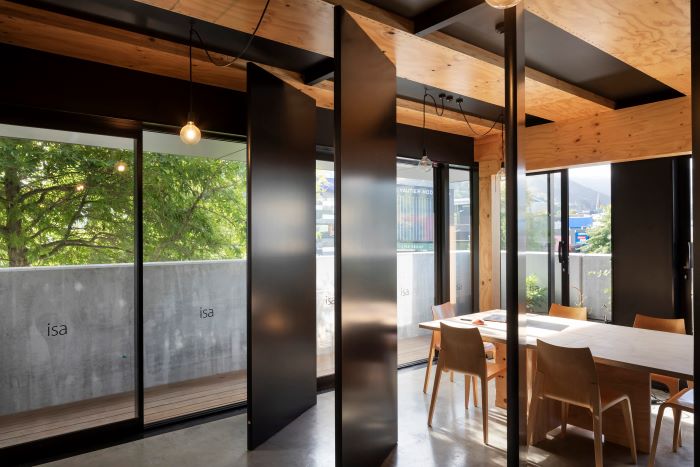 This year, Scion sponsored the new Hybrid Building category in the NZ Timber Design Awards, celebrating buildings using timber in combination with other materials.
The category was won by Nelson office Wall-E designed by Irving Smith Architects using timber and concrete to maximise the natural inherent qualities of the individual materials.
Judges said the building was "an outstanding example of ingenuity" that "elevates simplicity to a level of sheer elegance".
The awards are hosted by Timber Unlimited, which is funded by MPI and supported via a consortium including BRANZ, NZ Timber Design Society, Scion and the Wood Processing Manufacturers Association.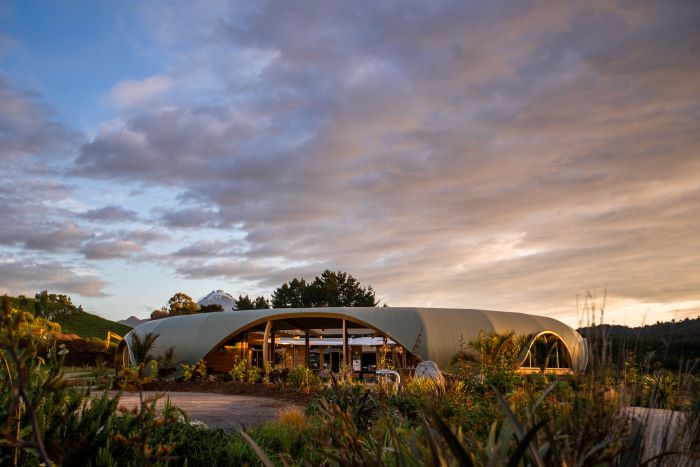 The winners
Residential Design, Single Family Dwelling: Studio house by William Samuels Architects (Nelson)
Residential Design, Multi-Unit Dwellings (< 3 storeys): 90 Carrington Rd by RM Designs & Engco (Auckland)
Commercial & Public Building Design: Green School - Kina by Boon (Taranaki)
Mid-rise Building Design: Clearwater Quay Apartments by Pacific Environments (Christchurch)
Interior Design: Learning from Trees by Andrew Barrie Lab (offshore)
Exterior Structure Design: Horoeka by David Trubridge (Rotorua)
NZ Specialty Timber Award: Te Rau Karamu Marae by Architects and Te Kahi Toi (Wellington)
Sustainable Development Award: Te Whare Nui o Tuteata – Scion Timber Innovation Hub by Irving Smith Architects, RTA Studio and Dunning Thornton Consultants (Rotorua)
Hybrid Building Award: Wall-E by Irving Smith Architects (Nelson)
Innovation Timber Engineering Award: Nelson Airport by Studio Pacific Architecture, Dunning Thornton, Gibbons Naylor (Nelson)
Innovative Timber Manufacturing & Technology: Lightweight Timber Research Structures by Andrew Barrie Lab & Batchelar McDougall
Student Design Award: The Vertical Stage by Gregory Mann (independent)
Supreme Award: Green School - Kina by Boon (Taranaki)
ENDS