Aerial robotics add new dynamic to forestry

Aerial imagery, near infrared detection and aerial robotics sound like they belong in a military operation, however these advanced technologies are set to change the dynamics of forest management.
Scion and Raglan-based Aeronavics Ltd have teamed up to field test unmanned aerial vehicles (UAVs) mounted with interchangeable remote sensing technologies for use in forest management. Researchers from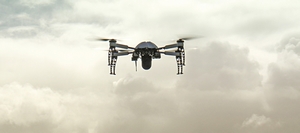 across Scion, led by our Forest Industry Informatics team, will be using a multi-rotor craft from which LiDAR, infrared or hyperspectral sensors and video cameras can transmit vital information on many aspects of forest management – such as resource assessment, tree health and pests. These technologies will also be a valuable addition to biosecurity surveillance and eradication operations, and fire management.

"UAVs could seriously change the way forests are managed," says Science Leader Bryan Graham. "They will make it possible for us to gather a larger volume of information, which combined with existing data and technologies, will add greater precision to forest management decisions.

"We spent the past year looking into the feasibility of using drones for this purpose, for both large forestry companies and smaller units, and have since received industry support to conduct field trials. By investing in UAV technology at this scale we can work with Aeronavics to further develop both the aerial platform and associated sensors, and speed up the delivery of a whole new generation of management tools for our forestry and government stakeholders."

The UAV will be able to collect data on up to 1,000 hectares in one flight. Using LiDAR, data can be collected on stand attributes, such as stocking and tree height, and the infrared camera will capture aspects of tree health. The hyperspectral camera detects a much broader spectrum of wavelengths, and can be used to identify the spectral signature, or fingerprint, of vegetation types and tree diseases such as red needlecast.

"Combining LiDAR data collected at 10 metres above the canopy with that collected from satellite or plane will give us a much clearer picture of what's happening within both native and planted forests," says Bryan.

The team is working with several forest companies, Callaghan Innovation and the Civil Aviation Authority (CAA) to conduct the field trials, which are due to begin in May. The trials will also be used to investigate the technical requirements for UAVs used in forestry to fly beyond the line of sight, with Callaghan Innovation and the CAA developing what may be the world's first regulatory framework to support UAVs flown beyond line of sight. Under current regulations, UAV operators must maintain visual contact at all times to ensure it does not endanger other aircraft.

A report commissioned by Callaghan Innovation stated these new regulations could boost the farming, forestry and energy sectors by up to $190 million a year through increased revenue and reduced costs, of which some $72 – $96 million will be contributed by forestry. Scion is partnered with both Callaghan Innovation and end-user group UAVNZ to ensure forestry is selected as an early adopter of beyond line of sight regulation changes.

"Other big challenges for us will be developing the systems to process the increased volume of data and automating the system using avoidance technology to allow UAVs to manoeuvre through the forest canopy safely," says Bryan. "Our researchers have begun developing algorithms to extract relevant information from the data collected. This will build on work we are already doing with LiDAR and link with other systems to extend Scion's capabilities in UAVs and remote sensing technologies for precision forest management.

"Validating UAVs as a tool, not a toy, is important. And we look forward to working with forestry and other companies in this new and exciting field".
For further information
Contact Robin Hartley