Kauri makes economic return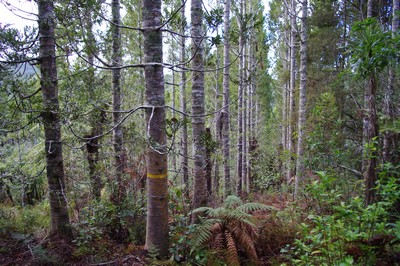 A growth model developed by indigenous forestry specialist, Greg Steward, shows that New Zealand kauri (Agathis australis) has surprisingly good potential as a productive commercial species.
Greg has completed a Masters Degree that involved compiling historic and recent growth data from kauri plantations around New Zealand. His modelling results show that kauri compares favourably with exotic tree species in terms of wood quality, growth rates and return on investment.
"We now have solid evidence that a 50-60 year rotation of planted kauri can yield a rate of return on good sites that is comparable with Douglas-fir and radiata pine," Greg explains. "This could go higher with research into improved genetics and silviculture."
Greg says the main impediment to kauri plantations has been the perception that natives will never pay. His research is starting to change people's minds.
"Forestry planners and investors need hard data, not anecdotal evidence. This model provides data on a native species for the first time. It opens the door to a new way of thinking about planted forests in New Zealand."
The kauri growth model has been developed as a web-based calculator by Future Forests Research (FFR). This tool will be available for FFR members to use for planning and managing planted kauri for specific outcomes. Scion is undertaking similar work with other native species, such as totara.
Want to know more about kauri?
CONTACT: David Pont