Scion plays part in the water quality picture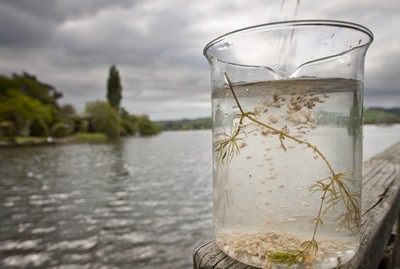 A modified zeolite product developed by Scion has been used to treat potentially toxic algal blooms in Rotorua lakes. The product, marketed by Blue Pacific Minerals under the trade name "Aqual P", is one of many tools being used by the Bay of Plenty Regional Council as part of their lake clean-up efforts.
Zeolite is a highly absorbent volcanic mineral that is commonly used for applications like cat litter and chemical spills. Scion's technology modifies the zeolite with a benign polymer that increases the mineral's ability to absorb phosphorus and other nutrients. The product is applied to the lake surface and mops up phosphorous as it sinks. It eventually settles on the bottom to act as a sediment cap, locking in the nutrients on the lake floor.
The Bay of Plenty Regional Council used Aqual P this summer to treat a toxic blue-green algae bloom in Rotorua's Lake Okaro. Algal blooms can occur in nutrient rich lakes when temperatures rise, posing a potential health risk to any animals or humans that come in contact with the water.
The Regional Council applied an Aqual P slurry to the lake from a helicopter, in an effort to reduce the nutrients in the water and starve the algae. Initial results are promising with algal levels reducing to much lower levels within 2-3 weeks. Monitoring of the lake will continue until late autumn.
A similar approach used by the Regional Council to treat Lake Rotoiti in February 2011 was successful in averting an algal bloom threat. Council staff and residents observed a rapid improvement in water quality following the Aqual P treatment, and the algal bloom did not become a serious health issue.
The Regional Council's Lake Operation Manager Andy Bruere says these treatments are part of a wider management plan for the Rotorua lakes, which include tree planting, wetland restoration and working with land owners to reduce nutrient run-off.
"Aqual P has proven useful for short term remediation where there is a need to control blooms in small lakes or bays before they become a longer-term problem," he explains.
Scion started research on the ionic properties of locally mined zeolite in 2004 and two years later teamed up with Blue Pacific Minerals to develop the technology. Lake trials were conducted from 2006 onwards by the Bay of Plenty Regional Council, supported by researchers from the University of Waikato and NIWA. All results have been positive with no harmful environmental impacts.
The Aqual P technology has now been licensed to Blue Pacific Minerals, a privately owned mineral processing company based in Tokoroa. The exclusive licence is for the manufacture, sale and global distribution of modified zeolite. This research was conducted as part of Scion's ecotoxicology programme which has grown from the treatment of forest industry waste streams.