Managing wind risk in forests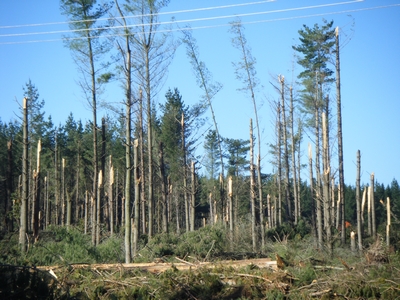 Intense storms have damaged large areas of forest in some parts of the country. While the actual percentage of the forest estate damaged in recent years is less than it was in the 1970s and 1980s, research suggests that this risk is not going away.
Scion science leader Dr John Moore specialises in understanding wind effects on trees. He says that extreme storms and their damage patterns are difficult to predict. NIWA's climate change projections show that the frequency of extreme winds is likely to increase in almost all regions, with cyclone activity expected over the Tasman in summer.
"Whether or not you take climate change predictions seriously, forest growers always need to manage wind risk. We know that significant losses from wind occur on average every 4-5 years in New Zealand," he says.
The good news is that forest growers can take steps to reduce windthrow risk through changes in silvicultural regimes and harvesting operations.
John says it is also important to have plans in place for dealing with an event once it has happened.
"You don't want to be making it up as you go along if you don't have to!"

Reducing wind risks
Site – Certain landforms and soil types make trees vulnerable to wind damage. Gullies are at risk because they tend to funnel the wind, and gully bottoms have higher soil moisture content that can reduce root anchorage strength. Soil types or features that encourage shallow rooting can reduce tree stability.
Species – Radiata pine is considered more susceptible to wind damage than many other species, particularly in saturated soils. Douglas-fir tends to be more stable due to its plate-like root structure and more flexible crown.
Silviculture – Any action that opens up the stand can increase wind risk. For example, late thinning (over 18 m mean top height) significantly increases the risk of damage.
Rotation age – As trees get larger they become more vulnerable. Damaged areas are often concentrated in older age classes, especially radiata pine stands over 30 years old.
Salvaging logs
Wood is affected by sapstain as it dries out so every salvage operation is a race against time. Research by Scion shows that the rate of log deterioration is influenced by the following factors:
Bark protection - Trees uprooted by wind tend to deteriorate at a slower rate than processed stems. This is because storm damaged stems typically remain protected by intact bark.
Air temperature - Less time is available for log recovery during spring and summer, and in warmer regions such as the northern North Island.
Moisture levels – Unlike snapped stems, uprooted trees remain alive longer and can obtain moisture through roots still present in the ground, keeping the wood green for longer. Trees that remain rooted after windthrow during winter can potentially stay in good condition for up to a year.
Related publications:
McCarthy, J. K.; Hood, I. A.; Brockerhoff, E. G.; Carlson, C. A.; Pawson, S. M.; Forward, M.; Walbert, K.; Gardner, J. F. (2010). Predicting sapstain and degrade in fallen trees following storm damage in a Pinus radiata forest. Forest Ecology and Management 260: 1456–1466.
McCarthy, J. K.; Hood, I.A.; Kimberley, M.O.; Didham, R.K.; Bakys, R.; Fleet, K.R.; Brownlie, R.K.; Flint, H.J.; Brockerhoff, E. G. (2012). Effects of season and region on sapstain and wood degrade following simulated storm damage in Pinus radiata plantations. Forest Ecology and Management 277: 81-89.
Want to know more about wind risk?
Contact: Peter Clinton