Scion creates new bioadhesives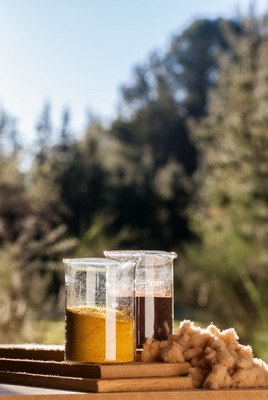 Scion has created a new recipe for adhesives made 100 percent from bio-based ingredients. This breakthrough will help manufacturers of wood panel products to overcome regulatory and customer concerns about formaldehyde emissions.
New Zealand manufacturers of medium density fibreboard (MDF) have been working for many years to reduce formaldehyde in response to regulatory pressure from Japan. Similar concerns have more recently emerged in the US and Europe, resulting in higher demand for "green" panel products.
Suitable alternatives to standard adhesives do not grow on trees. Or so everyone thought. Three years ago, chemistry scientists at Scion initiated an entirely new research programme to create bioadhesives.
Project leader Dr Warren Grigsby says their aim was to make adhesives that do not require any formaldehyde or petrochemicals, using a green chemistry approach. He likens the process to creating a new kind of healthy cake without a recipe or any ingredients. They started with assorted forestry and agricultural residues such as pulp mill waste and arable crop processing leftovers.
"We extracted various chemicals from plant residues and then brought these ingredients together in new ways to create building blocks for adhesives," Warren explains.
Like every good experimental process, Warren admits they had a few flops along the way. When the research team eventually hit on a recipe capable of holding an MDF panel together, things really started cooking.
"Our next step was to scale up the process and work out the feasibility of using our new recipe in an MDF manufacturing plant."
Using the fibre processing plant located at Scion, scientists ran a pilot study and achieved their goals. By overcoming the stickiest of challenges, Scion has laid the groundwork for creating green panels using ingredients that are grown or sourced in New Zealand.
"We now have proof of concept at pilot scale and are focused on providing underpinning science that will lead to commercialisation," Warren says. "As with any new product development, there is more work to be done to achieve a commercially viable solution. We find this stage of research is best done in partnership with industrial manufacturers."
With architects, designers and furniture makers all seeking this kind of product, Warren believes the technology is poised for global uptake.
"The green approach could offer local manufacturers a competitive advantage over wood panel processing plants located overseas. Scion is keen to speak with manufacturers who may be interested in exploring this opportunity."
Contact: Show email