A new kind of wood adds value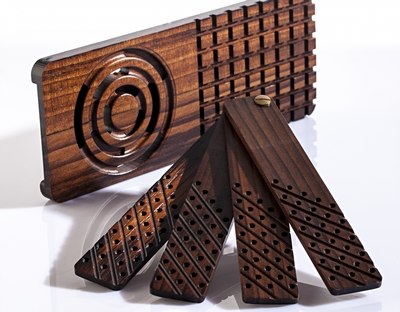 Substituting just 1% of tropical timbers with sustainably grown radiata pine would be a significant opportunity for New Zealand. Scion's wood processing scientists are developing and preparing to commercialise a technology platform with New Zealand based companies that can deliver new applications for wood. The technology is protected by international patents.
The Scion team has successfully developed "dewatered" wood from radiata pine. The dewatered wood is not an end product. It is a superior material that relies on downstream modifications to achieve a high-value, wood-based material that meets a range of market needs not currently met by radiata pine.
An early application of this platform technology demonstrates that the resulting modified wood product has similar physical and appearance properties to tropical hardwoods such as teak.
The research is developing a transformative technology using supercritical carbon dioxide. Supercritical fluids behave like both a gas and a liquid and have been used in commercial applications to remove chemicals from a substance without distorting the original structure of the material.
Dewatered wood looks and feels like any other piece of timber, but is slightly heavier as it contains 40% moisture content, compared with about 10% in kiln-dried timber.
Dr Elspeth MacRae, General Manager Manufacturing and Bioproduct Development, says the technology gives radiata pine another mechanism to compete with high-value hardwoods thus increasing export earnings for New Zealand.
She emphasises the new technology is not a drying technology; rather it results in wood properties which are fundamentally different. This enables further modification to a range of exacting stability, hardness, colour and durability requirements. Mostly, these subsequent modifications will occur by impregnating transforming agents into freshly dewatered wood.
In addition to new wood products, liquid extracted from the dewatering process has been analysed by Scion's Nuclear Magnetic Resonance spectroscopy team and a range of biochemicals identified. There are potential revenue streams from these extractives.
To date, research in New Zealand has been limited by the availability of a dewatering supercritical fluids facility that can process larger amounts of wood. In addition to continuing to work closely with companies interested in licensing the technology, Scion has commissioned Transfield Worley to design a Supercritical Pilot Plant. This would be located at Scion's Rotorua campus to produce sufficient volumes of dewatered material to further the research programme on the process and assist potential licensee firms complete market and economic evaluation of prototype products.
Contact: Show email