Scion and the University of Waikato cement relationship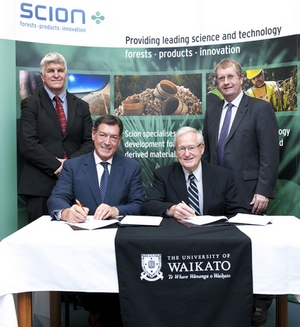 Scion and the University of Waikato have signed a Memorandum of Understanding that will see the two organisations working together in research and teaching and to enhance their contribution to the Waikato and Bay of Plenty regions, iwi and New Zealand.
The agreement encompasses collaborative research programmes, commercialisation of research where possible, student projects and internships and the creation of executive education courses for the region and industry.
The agreement was signed at a function at Scion in Rotorua on 30 July. From left to right: Scion CEO Dr Warren Parker, Scion Chair Tony Nowell, University of Waikato Chancellor Rt Hon Jim Bolger, University of Waikato Vice-Chancellor Prof Roy Crawford.