WoodScape project follows Bio-Pathways study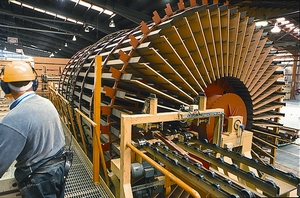 New Zealand's wood processing opportunities are being evaluated by Scion in a Woodco commissioned project called 'WoodScape'. WoodScape aims to determine which wood processing and complementary technologies (pulp, paper, timber, panel products, energy and chemicals) will give the best return to wood processors.
The project will follow a similar methodology to the 2008 Canadian Bio-Pathways study, led by FPInnovations, which showed that integrating new technologies such as bioenergy and biofuels manufacturing with traditional wood processing pathways led to much higher returns. (Featured in the December 2011 issue of Scion Connections.)
WoodScape will also include a scenario analysis where the most promising wood processing technologies (either stand-alone or in clusters) will be evaluated for five regions within New Zealand.
To be completed by February 2013, the project is funded by Woodco (the overarching body for the New Zealand forest and wood sector) and the Ministry for Primary Industries, New Zealand Trade and Enterprise, and Scion. The project recommendations will guide Woodco's Strategic Action Plan, which has a target to grow wood-based products to $12 billion by 2022.
Contact: Show email