Microplastics pollution of Auckland beaches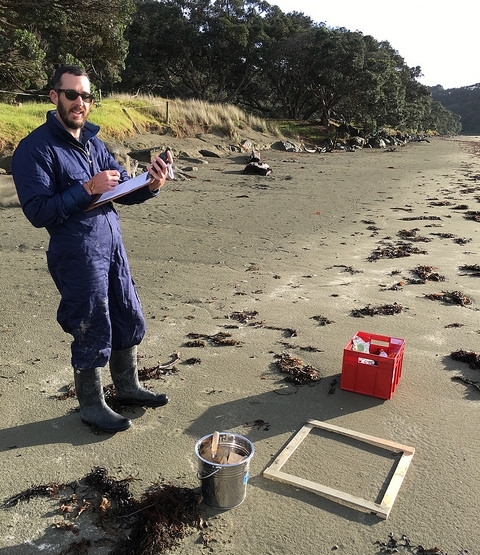 Plastic microparticles were first found on the New Zealand coastline in the 1970s, and they've been found in many places since.
Now, the results of a Scion-led study taking place in Auckland will also tell us what kind of plastics are found around Auckland waterways and coastlines and provide clues to where they came from and how they were transported to the coast.
Sampling soil and sand
Sampling work in the 'Turning the tide on plastic microparticles' study began in July with the collection of sediment samples. Auckland was chosen as the sampling area because it is New Zealand's most populated city with diverse zones including industrial, commercial, residential and parkland next to aquatic environments. Samples were taken at the high-tide mark and intertidal area from 39 sites across Auckland.
Scion is now analysing the samples in its laboratories in Rotorua. Analysis will identify, quantify and characterise the microplastics found in each location. Information about the local land use activity and environment will be included as part of the plastic microparticles litter profiles for different locations.
The research results will be used to increase understanding of the nature and source of plastic microparticle contamination in New Zealand's aquatic environment so that long-term solutions to minimise contamination can be established.
An international issue
"Microplastics in waterways and marine environments are a growing global issue," says James Walker, Deputy Secretary Partnerships and Customers at the Ministry for the Environment.

"We need to improve our understanding of the nature and origins of microplastic contamination in New Zealand, so we were pleased to support this study by Scion through the Waste Minimisation Fund as a first step."

Florian Graichen, Scion Science Leader for Biopolymers and Chemicals, says results will be used initially to increase public awareness and educate relevant industry sectors about the problem and consequences of plastics in our waterways.

"The next stage will be coming up with a plan to remove the dominant sources of these microplastics before they enter the New Zealand environment, and ideally introducing alternative options, such as biodegradable plastics, into manufacturing applications," says Dr Graichen.

The scientific team is a collaboration between Scion and the University of Canterbury, with support from the Waste Minimisation Fund, Packaging Council New Zealand (PACNZ), Auckland Council and WaterCare.

The research findings will be reported in March 2019.
For further information on plastic microparticles pollution in Auckland, contact
Dr Florian Graichen