Mobile manufacturing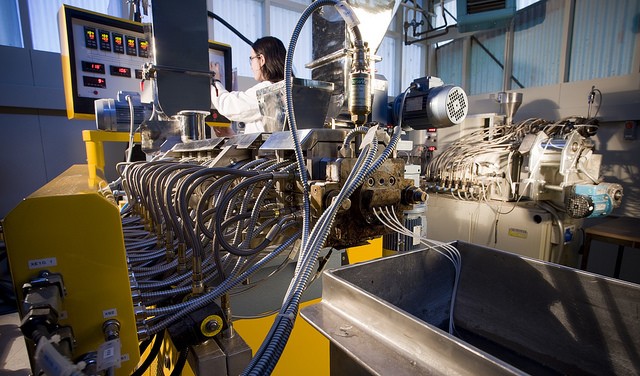 Manufacturing has long been important to New Zealand's economy. In 2007 the manufacturing sector was worth over 14% of the GDP, but in the past decade it has slipped to 12% ($23 billion), and discussion on how to rejuvenate the industry has begun. While this unfolds, a parallel discussion is taking place regarding the sustainability of materials used. Consumers are increasingly expecting manufacturers to switch from fossil fuel-based resources to renewable bio-based resources, and to adopt circular economy principles where materials are used and reused efficiently.
These drivers lend themselves to a new decentralised model for bioproduct manufacturing in New Zealand, and Scion is leading the charge. Our work with new technologies, processes and biobased materials will help to realise our bold vision to increase 10 fold the GDP from forests and manufacturing by 2050.
Distributed manufacturing
Distributed manufacturing breaks up the manufacturing process, so that different stages of production can take place in different areas. It is a direct contrast to standard, centralised manufacturing, which requires resources and materials to be transported to a central location where the processing takes place.
Scion along with international research organisations like VITO and VTT are putting a spin on this model – by making processing equipment mobile. The ability to take the equipment to the biomass resources will develop processing and provide opportunities for new skilled employment in the regions.
Why New Zealand?
Why isn't mobile or distributed manufacturing happening everywhere already? And why should New Zealand take it up now? New Zealand is a long country with a low density population and difficult terrain (like mountain ranges) that can make transporting voluminous biomass resources to one central processing place very expensive.
New Zealand also does not have a large legacy of older manufacturing technology that would need to be incorporated to minimise financial outlay. We have a relatively blank slate, allowing us to move immediately to a modern state of manufacturing.
If New Zealand were to adopt a distributed manufacturing model for wood products, for example, we could grow our own high-value wood product manufacturing sector in regions with a lot of forestry, and create new uses from side streams like forestry residues.
Making the most of manufacturing opportunities
Extrusion technology is an example of Scion's work in this area. Extruders are small enough to fit into a shipping container, and capable of taking biomass waste from our primary industries and turning it into something new and valuable.
In pioneering research, Alankar Vaidya, Marc Gaugler and Dawn Smith demonstrated the use of an extruder as a chemical reactor to modify sander dust for further use.
This novel use of an extruder shows proof of concept to what is possible with mobile distributed manufacturing. To implement this technology, an extrusion set-up could be run by a wood processor or even a juice manufacturer as another way to utilise their resources. Alternatively a mobile plant operator could move to the biomass resource as it becomes available e.g. seasonal food processing.
Scion has also manufactured several examples of compounding with an extruder including biodegradable plastic vine clips for the wine industry using a grape marc composite, a biodegradable utensil for Zespri utilising kiwifruit skin, and more.
This work was carried out as part of Scion's 'Extrusion Plus' programme. Extrusion Plus is supported by the Ministry for Business, Innovation and Employment. Our collaborators include the University of Auckland, University of Waikato, Massey University and Auckland University of Technology.
For further information on Extrusion Plus contact