Collaboration agreement with Māori Carbon Collective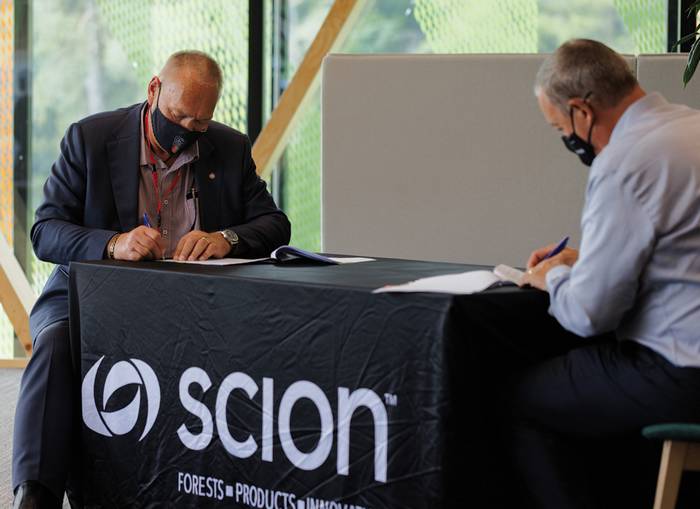 The signing of a collaboration agreement between Scion and the Māori Carbon Collective in November 2021 means Māori landowners will have new opportunities to engage with scientists to create intergenerational pathways for whenua and whanau.
Māori Carbon Collective (MCC) founding chairman Tā (Sir) Mark Solomon believes a lot can be done for Māoridom using collaborative research to understand the current and future Māori position relating to carbon sequestration activities on whenua.
"One of the projects I'm most excited to work on with Scion is trialling the planting of a mix of Pinus radiata and native trees on whenua for carbon farming, where eventually the native species takes over to become fully native again," he says.
"My heart always tells me that the best way to move forward with our whenua is using native trees, but if you are doing it as an economic return at this stage, the best process is using exotics.
"I would like business collaboration with Scion to prove we can do it with the native trees – this is our country and we should be planting with our trees."
Scion chief executive Dr Julian Elder says the agreement will make innovation accessible for landowners working through the Collective.
"As a research organisation, our purpose is to make economic, environmental and social impacts for Aotearoa, New Zealand – we can't do this on our own and we need to help enable others. Entering a partnership with the Māori Carbon Collective is a real opportunity to help the Collective do the things we think are possible to benefit their whenua," he says.
"Scion has a lot of knowledge from operating for 75 years. We want to apply this for the benefit of all New Zealanders, particularly around carbon sequestration and indigenous trees. With the signing of this agreement, we can contribute a lot to these spaces that require science and innovation."
Scion is working with the Māori Carbon Collective to enable pathways that lead to outcomes in widening exotic and indigenous carbon forestry options, carbon forestry value chain development, emissions accounting and certification, carbon credentials, and improvements to indigenous trees for carbon sequestration.
The Māori Carbon Collective was formed to ensure land trusts are provided with guidance to participate in the carbon trading market.
About Māori Carbon Collective
Māori Carbon Collective was formed with a core focus to ensure that Māori would be able to participate in the carbon market. This has been achieved through a primary offer that encourages mana whenua to enter into an equal sharing partnership model, designed by founding Chairman Tā (Sir) Mark Solomon.
The partnership eliminates the need for mana whenua to have access to any risk capital or ability to obtain any sort of financing from traditional institutions. This is all done while acknowledging the role partners have as kaitiaki, ensuring the protection of the whenua by making sure there is never any risk or threat to losing the land.
Find out more at