Scion's Te Whare Nui o Tuteata puts NZ on the architecture world map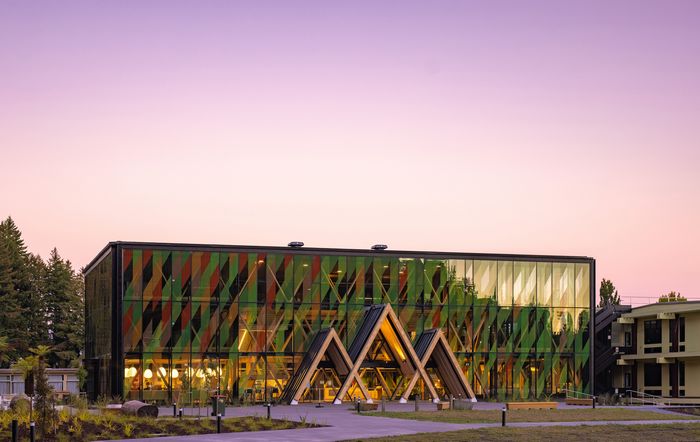 Scion's innovation hub, Te Whare Nui o Tuteata, has won 15 domestic and international awards since opening in March 2021, making it an international timber architecture icon.
The Rotorua building is believed to be a world-first diagonal-grid (diagrid) timber structure for a three-storey building, while also being embodied-carbon neutral. Its name and design feature stories of tangata whenua, Ngā Hapū e Toru. The building was designed by RTA Studio in collaboration with Irving Smith Architects.
In December 2021, Te Whare Nui o Tuteata won two World Architecture Festival awards (World Best use of Certified Timber Prize; World Higher Education and Research), and a New Zealand Institute of Architects (NZIA) National Award (Commercial).
Overall, Te Whare Nui o Tuteata won 15 significant national and international awards, and Scion sustainability architect and portfolio leader Andrea Stocchero believes there are many compelling reasons why.
"From the outside, you see a simple building with fascinating colours that match the forest and at the entrance, Māori kowhaiwhai patterns from the tangata whenua. But inside you see a striking timber structure, architectural lines and natural materials in harmony with each other – that is what is so impactful.
"The world is on a quest to decarbonise across many different sectors. Trees sequester carbon from the atmosphere while they're growing, as long as the wood is in use that carbon is stored so it's not going back into the atmosphere. If the timber is sustainably certified it means that the forests are re-growing after each harvest, and the carbon sequestration cycle continues."
Te Whare Nui o Tuteata stores 418 tonnes of CO2-equivalent for the life of the building, which is the equivalent of one person flying 160 times return from Auckland to London.
"We calculated that the timber we see in Te Whare Nui o Tuteata has been regrown in 35 minutes by New Zealand planted forests," illustrates Stocchero.
"This is a compelling story about the capacity for New Zealand forests to provide the timber we need for future developments.
"I believe Te Whare Nui o Tuteata won these awards because it showcases the opportunities architects have with timber to design exciting, beautiful buildings while using a locally-grown and manufactured material that is also helping to reduce our carbon footprint."
RTA Studio executive director Rich Naish says the team is honoured to have been recognised at the World Architecture Festival Awards.
"The recognition of this building and the innovation it proposes for sustainability and carbon neutrality in the building sector, particularly in the weeks after COP26 (the 2021 United Nations Climate Change conference), could not be more relevant. We are proud to be able to make a global contribution to the climate emergency," he says.
Irving Smith Architects design director Jeremy Smith says it's wonderful to be recognised on the global stage for Te Whare Nui o Tuteata which sets new conventions.
"Tackling climate change requires working together and this building provides an invitation to 'come walk in our forest' and see how we can all better participate with the environment."
Other awards included Property Council NZ Awards of Excellence, Best of Best Masterprize Award for Green Buildings at the USA Architecture Masterprize Awards, The Building Award at the Indo-Pacific INDE Awards in Sydney and the Designers' Institute of New Zealand Best Design Awards Purple Pin.