Nursery responds to SOS from Timaru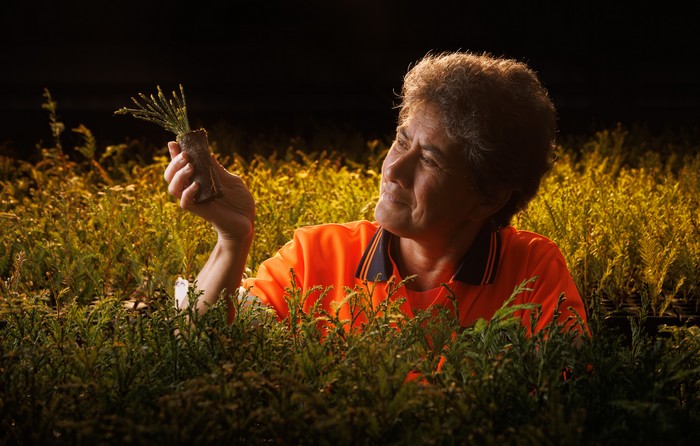 Scion's nursery team is celebrating after successfully preserving the genetics of a landmark giant redwood tree felled due to property development in Timaru.
Cuttings from the felled tree, known to Timaru locals as the Champagne Tree, have been propagated by Scion in Rotorua where nursery staff discovered early signs of healthy root structure in a young plant eight months after branches were sent to them.
Their mission now is to grow at least one plant into mother stock that can provide further cuttings and repatriate these to Timaru. Scion's nursery operations manager Kelly Turner says the result is a major win for her team.
"Branches from the tree were salvaged, put into bags of water and sent up to us in boxes on ice about four days after the tree was felled. It wasn't an ideal start, but we cracked it."
She credits their success to the expertise of nursery technician Trish Moke-Pouwhare who took cuttings from the branches, and the Ellepot paper pot technology used in Scion's nursery to accelerate plant propagation.
"At Scion we mostly propagate the coastal redwood species and Trish handles all of our cuttings after mastering the art. This tree is a mountain redwood and grows roots very slowly. It can usually take up to 12 months, so to see healthy roots after eight months is a real testament to her skill and the effectiveness of the paper pots to speed up the plants' growth."
Earlier attempts to preserve the tree's genetics through tissue culture techniques were unsuccessful.
Scion has been using the Ellepot technology for three years. "Taking cuttings is quite an old method but what's new is the paper pot technology; that's what we've found with the redwoods," says Turner.
"Before using paper pots, it could take six months to get coastal redwood cuttings to root. Now, it takes three months or even six weeks under the right conditions. The cuttings love it."
Roots grow faster in the paper pots and plants can be easily transferred into bigger pots or put straight into the ground.
Turner says her team's goal is to return healthy trees to the Timaru community and to the descendants of the woman who was gifted the redwood in the mid-1850s.
"With their permission, we'd like to keep some cuttings at Scion so we can learn more about this particular species. We're hoping we can accelerate the cuttings process and achieve a result faster than eight months after discovering more about the conditions that it likes."
The felling of Timaru's Champagne Tree took some people by surprise, including descendants of the tree's first owner.
However, it followed many months of discussion between owners of the property where it grew and a neighbouring company that sought professional advice about its health and the safety of nearby properties. The 34m tree sat near the boundary of land they planned to subdivide. Efforts to formally protect the tree fell short, as it could not be listed as a notable tree under Timaru's District Plan until 2023.
After the tree was cut down on March 31 2022, descendants gained permission from the property owners to get cuttings, with half going to Scion and the rest to a South Canterbury nursery for propagating.
The tree dates back to the 1850s when George Rhodes gave a seedling to his wife Elizabeth, and it first grew at the site of the present Timaru District Council building.
After her husband died, Elizabeth remarried, and the tree moved to her new husband's home off Wai-iti Rd in 1873. The tree was then in poor shape and a bet was made, for a case of champagne, that it would not survive.
It thrived and became known as the Champagne Tree, towering over Timaru for 150 years. It was also home to the town's Christmas star from 2003 until 2020.
The tree is a Sequoiadendron giganteum, otherwise known as giant sequoia or Wellingtonia tree. One of three species of coniferous redwood trees, it grows more commonly in colder climates or mountainous terrain. In its natural habitat on the western slopes of the Sierra Nevada mountain range in California, it is listed as an endangered species due to the threat of global warming, drought and fire. It's believed fewer than 80,000 trees remain.
---
Our research nursery provides specialist seedling growing services and support to commercial forest growers. For more information, please contact Kelly Turner.