Time critical on climate change action
Scion's 75th anniversary year continues, and it's clear that the future of forests and forestry are fundamental to New Zealand's future wellbeing and prosperity.
As recently as January 2023, we were reminded about the devastating impact of climate change when floods ravaged Auckland and parts of the North Island. As repeated extreme weather events take their toll on communities, infrastructure and our environment, there are growing calls for greater climate change action. At Scion, we are rising to the challenge and leading the way with research that supports the growth of our forestry sector and the development of new technologies that use trees and other renewable materials to create products that can replace those made from fossil fuels.
Forestry is already recognised as a vital means of tackling climate change. It plays its part in two ways. First, it will help achieve New Zealand's net-zero target by removing CO2 from the atmosphere. That's essential to our climate change response as sequestration of carbon by vegetation is the only viable technology to reduce and offset the carbon that we've already put into the atmosphere. Sustainable plantation forestry also has a role in reducing our gross CO2 emissions by substituting products, fuels and energy made from fossil fuels with renewable wood and fibre-based alternatives.
Forests collectively – both production and long-standing indigenous forests – are a massive renewable resource with the scale needed to provide New Zealand with low-emissions materials and fuels. As a country looking to avoid further catastrophic outcomes, we must invest in research and innovation that unleashes the power of forestry for its ability to mitigate the effects of climate change and chart a course for a low-carbon, circular bioeconomy future.
The challenge for our sector is addressing how to accelerate this work. Scion strongly supports the vision set out in the government's Forestry and Wood Processing Industry Transformation Plan (ITP) launched by the Minister of Forestry Stuart Nash last year at Fieldays. The ITP's five goals feature actions to transform the forestry and wood processing sector in New Zealand. It's a plan that reinforces the relevance of Scion's Strategy to 2030: Right tree, right place, right purpose, and the leadership role that we have in research that will drive development of new manufacturing sectors and low-carbon products. The ITP has underlined the opportunities for industry, iwi and New Zealand when we all work together to maximise the potential of fibre and trees.
That vision and mission-focused approach is also central to the Te Ara Paerangi – Future Pathways process that the Minister for Science, Research and Innovation, Dr Ayesha Verrall, set out in a white paper launched last November.
We're excited by the vision and policy directions outlined in the paper as they illuminate a pathway to build a research, science and innovation (RSI) system that supports wellbeing for all New Zealanders. We're looking forward to working with MBIE to bring that vision to reality.
Scion is kickstarting 2023 with an event in Wellington to bring people together to stimulate conversation about the circular bioeconomy and its critical importance for New Zealand. We care deeply about ensuring that the 'take, make, waste' linear economic model is replaced by one where the word 'waste' is redundant. Our Strategy to 2030 is leading New Zealand in this transition towards a model where waste from one process becomes feedstock for another. The concept aims to design out waste, keep materials in use for longer, and regenerate ecosystems.
As well as helping New Zealand and the world meet its climate change targets, a forest-based circular bioeconomy is a $30 billion economic opportunity that will provide a mosaic of activity for regional New Zealand to thrive, through emerging bio-based manufacturing, and the creation of new high-value products from what we currently consider waste.
Integral to our success are partnerships with industry, the wider research sector, government and iwi. In this issue of Scion Connections, we're showcasing the breadth of Scion's research capabilities in packaging and we highlight how our science activity in forest health, biosecurity, genetics and bioenergy is having a positive impact. You can also read about the growing relationship that Scion has with tangata whenua at the site of our Rotorua campus, through the signing of a Kawenata between Scion and Ngāti Hurungaterangi, Ngāti Taeotu and Ngāti Te Kahu (Ngā Hapū e Toru).
Our mission is to enhance New Zealand's prosperity, wellbeing and environment through trees. We have great confidence that our excellent science and research, supported and empowered by a coordinated RSI system, will lead the transition to a circular bioeconomy and put New Zealand firmly on track to a sustainable, productive and inclusive low-carbon future.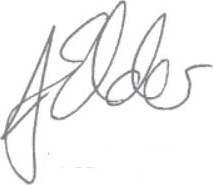 Dr Julian Elder
Chief Executive