Investment in bioplastics research pays off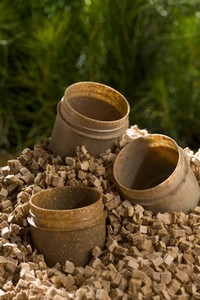 Bioplastics are a small but rapidly growing niche that currently represents about 1% of the global plastics market. Their use is expected to grow by over 10% per year, with the estimated global market expected to be more than 12 million tonnes per year by 2020.

"Legislation, consumer demand for sustainable materials and making better use of our natural resources are driving the development of products made from renewable resources," says Dr Alan Fernyhough, Science Leader for Biopolymer and Chemical Technologies. "Improving the properties of bioplastics and finding new ways to implement them into our lives and businesses also reduces our dependency on petrochemicals.

"Manufacturers are demanding renewable materials that offer more functionality – such as being stronger, stiffer and lighter weight, heat and water resistant, more durable, and flame retardant. These materials need to prove their 'green' credentials and be free from harmful
components. They also need to be produced cost-effectively."

Scion saw the potential of bioplastics over ten years ago and invested in the facilities and capability to support the plastics manufacturing sector.

"Our research takes a different approach to many countries in how we use and develop bioplastics and related technologies," says Alan. "We have developed expertise in extrusion processing of biomass, bioplastics, novel bio-based additives and fibre addition."

Recycling renewable resources
Our latest research shows that plastics reinforced with MDF fibre (licenced to Sonae Indústria as Woodforce) can be recycled many times with little change to their mechanical properties. Woodforce is an engineered diced wood fibre pellet developed by Scion that is used to reinforce thermoplastic polymers in the same way as short glass fibre and other natural fibres such as flax.
Polypropylene reinforced with MDF, flax and short glass fibres were recycled six times through Scion's extrusion and injection moulding pilot plant and then tested for strength, stiffness and impact strength. The MDF composite fared the best, retaining on average, 87% of its original properties in comparison to flax (72%) and glass (59%). The MDF fibres also retained most of their original fibre length, and therefore strength, whereas flax and glass fibres were more prone to degrading or breaking. In addition, MDF fibres have a lower density than glass fibres making them an attractive alternative for use in materials where weight is important. These attributes may help MDF fibre plastic composites be more appealing to plastic processors and recyclers, and assure their place in future markets.
Computer simulation aids industrial extrusion
Computer modelling was used to help find the right extrusion parameters for compounding Woodforce fibres with a thermoplastic. Parameters such as extruder screw configuration, pressure, melt temperature and processing energy affect how the fibres are dispersed throughout the resin, the length of the fibres, and the final appearance of the composite.
Modelling assisted in the scale-up from Scion's extrusion pilot plant to an industrial level. Industrial compounding trials were then run at a commercial scale in association with Sonae Indústria.
Biodegradation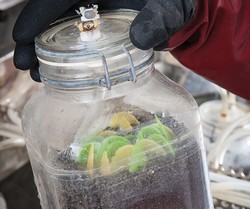 Scion's new biodegradation facility measures the composting of materials like bioplastics by replicating conditions used in typical industrial composters. The facility is unique to New Zealand and one of only two in Australasia. It was designed and built to measure the breakdown of materials to international composting standards such as the European Compostable Packaging Standard EN 13432.
The facility is used to tailor the composting of newly developed biomaterials such as the biospife. The facility can also be modified to measure the breakdown of any material in any medium such as soil or aquatic environments. The biodegradation facility is commercially available to clients from packaging, plastics and export industries.
Visit
Scion on YouTube
for a closer view.