Protecting your product with better packaging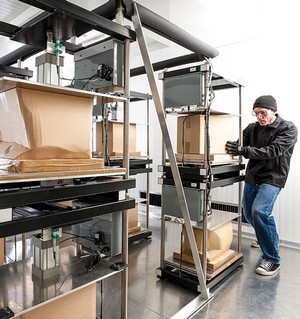 Scion's new coolroom facility has been purpose built to test how corrugated boxes perform when exposed to fluctuating humidity, which is what they experience during distribution in the chilled supply chain.
The coolroom has a special twin wall design to keep the temperature constant at 4°C (and at higher temperatures if required) and to accurately cycle relative humidity between 50%-90%. The changing humidity causes the paper to contract and expand. Compression creep tests can be conducted in the coolroom to capture the strain profile of a box or to measure box lifetime.

Using this new facility combined with the wide range of existing paper and board testing equipment, Scion's packaging team, led by Lou Sherman, can now start to understand the relationship between paper performance, corrugated board characteristics and box lifetime. They also work with a range of materials (including plastics, bioplastics and hybrid material) to design innovative packaging solutions, and optimise conventional materials using such things as functional coatings and additives.

Our latest advances in packaging solutions and test facilities were promoted at our recent 'Ahead of the pack' workshop, which was aimed at updating packaging suppliers and users with the latest global trends in packaging and bioplastics. Over 40 people attended.

For further information:
Contact Kate Parker