Science in the bathroom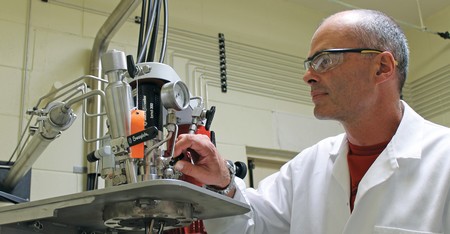 There are 2.5 billion people worldwide¹ living without adequate access to safe and affordable sanitation. In total, it is almost the combined population of the world's two most populated countries, China and India. The implications for human and environmental health are enormous, but the toilet as we know it is not an option for many of the regions that need sanitation most. They need a new solution to treat human waste, and the Bill & Melinda Gates Foundation is working with scientists from Scion, and all over the world, to make it happen.

The challenge to reinvent the toilet was started by the foundation in 2011. Their aim is to remove the barriers to safe sanitation by funding scientists to create a toilet that is safe for humans and the environment, is sustainable, cheap to use (less than US$0.05 per user per day) and works 'off the grid'.


Solving a very specific problem
Scion came to the project in 2015, when the Gates Foundation awarded our research team a grant to create a proof of concept – showing that our wet oxidation could be an effective way to treat human waste. A supplemental project was also awarded to look at how Scion's extrusion expertise could be applied in other aspects of the project. A year later, the initial results prompted the foundation to award our team a further grant to create a full-scale working prototype in the next two years.

The method that Scion staff are using in our toilet model grew from expertise established in treating waste water from the pulp and paper industry. While the initial proof of concept demonstrated the potential of our wet oxidation process, the treated human waste still had high nutrient concentrations which made it unsuitable to be directly discharged.

Phase two of the project will include a second process to solve those issues. Current options for the second stage include using bacteria that grow in the presence of infra-red light, and a collaboration with Swansea based firm, SPECIFIC, who use titanium dioxide and other treatments to degrade waste.

The team has a busy two years ahead with some significant challenges to overcome. Project Leader Dr John Andrews says, "We're creating a small reactor to sit in people's homes, and we need to make sure it's 100 per cent safe and still able to cope with the volume of waste a home full of people can generate".

To power the reactor, the team is working on options for a power source. They may use mains electricity, solar power or something else entirely. "We're also collaborating with a company called Urine-tricity from Bristol to create a microbial fuel cell, to act like a battery," says John.

Eventually the prototype will be fitted with a toilet bowl and seat of sorts, and when the working prototype is ready the team plan to have some lucky colleagues test it out.


The winners
"The real winners of this challenge will be the 2.5 billion people who'll benefit from the technology," says Research Leader Dr Daniel Gapes. "That number keeps us motivated, it's been key to our success. We're just one of many teams around the world working on a solution to this problem, but we're all sharing information and working together."

Scion has a lot of experience in waste treatment, with over a decade developing TERAX® technology and from research for the pulp and paper industry. Daniel says, "This research came from forestry, but the things we learn from this project could be applicable across a variety of fields. We're just excited to be part of project that's tackling big problems with bold solutions".


1 See http://www.gatesfoundation.org/What-We-Do/Global-Development/Reinvent-the-Toilet-Challenge