Science supports rural wildfire response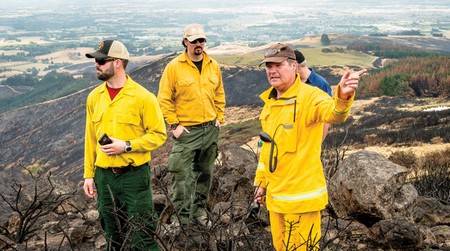 Grant Pearce pointing out the aftermath of the Port Hills Fire to representatives from the US Forest Service Missoula Fire Sciences Lab, San Jose State University and the University of New South Wales.

The recent Port Hills fire is one example of the enormous risk that rural wildfire can pose to homes, farms, forests and infrastructure. The response to the fire was supported by robust science from our rural fire research team.
The team used estimated fire spread times and the associated fire intensity and flame length to assist the incident management team to develop the fire attack strategies, determine resource needs and ensure fire-fighter and public safety. The Prometheus fire growth simulation model was also used to predict fire behaviour and evaluate different fire breakout scenarios.

Scion fire scientist Grant Pearce observed the fire personally. It certainly met the definition of an extreme fire. It escalated suddenly, spread rapidly and with high intensity, changed directions abruptly, fire whirls and a fire tornado was reported; but above all, it was unpredictable.


Extreme fire risk is increasing
More extreme fires are expected with climate change projected to bring increased temperatures, decreased rainfall in some areas and stronger, more frequent westerly winds. The blurring of urban boundaries, with people increasingly moving into rural areas, is also likely to increase both the risk of fire and the potential impacts. This season's fires in the Coromandel, Hawke's Bay and Christchurch resulted in the greatest house loss in 100 years.

The Scion rural fire research group began a five-year project to understand and address the threat of extreme fire in late 2016. The work is supported by the Ministry of Business, Innovation and Employment's Endeavour Fund, a number of local and international stakeholders and Scion's core funding.

The goals of the programme include understanding the atmospheric conditions that can cause a fire to become extreme. They will look at the role of heat transfer mechanisms in different fuel types to improve the existing fire behaviour prediction tools, how extreme fires could be prevented, and real-time monitoring of fire outbreaks
and fire growth.
25 years of rural fire research
February 2017 marked 25 years of rural fire research in New Zealand. Grant Pearce has been on the scene since it began. "Our research has focussed on reducing fire risk, being ready to fight it, responding to fire and recovering from it", says Grant. "Now we are preparing for a future with more extreme fires. We can't stop nature, but we can take precautions and be prepared based on the best science possible."

Grant's outstanding service to rural fire research was recognised at the 5th New Zealand Rural Fire Research Workshop held in Christchurch on 7-8 March.

As an individual scientist, Grant has a tremendous science impact on the New Zealand and international wildland (rural) fire community. He operates at all levels of the fire sector providing advice and expertise to fire managers up through to principal rural fire officers, senior government staff and Ministers said Kevin O'Connor, from the National Rural Fire Authority, during presentation of an award to Grant.

For further information
on Scion's rural fire research, contact Grant Pearce at Show email