Finnish research leaders touch down in Rotorua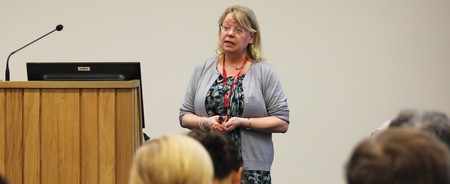 As part of our ongoing partnership with the VTT Technical Research Centre of Finland, Scion hosted executive vice president Anne-Christine Ritschkoff and vice president Tiina Nakari-Setälä at our Rotorua campus on 28 February.

It marked the first meeting of Scion and VTT executive leaders since we signed a collaboration agreement in 2016. Anne-Christine and Tiina's visit is part of a regular schedule of meetings to strengthen cooperation and promote our common vision for the bioeconomy and circular economy.

Dr Elspeth MacRae, Scion's General Manager Manufacturing and Bioproducts, says, "There's so much potential for our work with VTT to grow. By showcasing some of our current work, we find more common interests and spark new opportunities for collaboration".

Anne-Christine and Tiina were shown examples of a wide range of our work from drones (UAVs), big data, to using biopolymers in packaging and much inbetween. To round out the day, a discussion was held on the first joint VTT/Scion project, adapting VTT's hemicellulose technology - which is used to make new packaging products - to use different polymers from radiata pine grown in New Zealand. Other potential research areas may include bark biorefinery, mobile modular manufacturing and processing, and joint bidding for global entities.