A bird's eye approach to precision forest management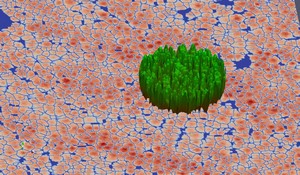 Remote sensing technology, such as LiDAR (Light Detection and Ranging) has had a huge impact on forest management. LiDAR technology uses reflected laser beams emitted from sensors mounted on planes to provide accurate ground mapping and data on stand variables, such as height, volume, basal area and stocking that ultimately may make it possible for foresters to manage vast commercial forests from afar.
Two breakthrough technologies developed recently by Scion's resource assessment specialists can translate this valuable LiDAR data into usable information. Tapping into this bird's eye approach will enable foresters to do such things as measure the maturity and density of a stand, and reliably count trees, making it possible to predict key stand metrics and plan supply chain logistics accurately from the office.
The resource assessment team, led by Dr Michael Watt, has worked with industry partners Timberlands Ltd, Silmetra and Interpine to develop a methodology that can translate LiDAR data into area-based metrics that can be directly used in existing software to improve the accuracy of assessing stand resources.
Timberlands Ltd plans to implement the technology as a resource assessment tool and will be acquiring LiDAR data for all of Kaingaroa forest, which constitutes about 10 per cent of the national estate.
"The use of LiDAR is likely to considerably reduce the number of plots required for inventory purposes," says Michael. "And it's also likely to result in precision gains, which may help reduce costs for forest managers."
"Timberland's application of this technology is liable to expedite the uptake of LiDAR throughout the forest industry in New Zealand."
In a step further, resource specialist and software developer, David Pont, has refined the methodology to detect, delineate and count individual trees. The Individual Tree Detection (ITD) software can generate individual tree metrics and maps showing spatial variation in tree stocking, and allows forest managers to accurately predict stocking and tree dimensions. This level of detail has not been achievable until now.
"Reliably identifying individual trees using remote sensing has been an elusive goal for the global forestry industry for years, and we have achieved it," says David.
While the resource assessment and the ITD technologies both use the same LiDAR data, their application of it differs. As David explains, "ITD software can provide a greater level of detail that is not available using conventional remote sensing technology."
Tests have shown the ITD software can count trees in a stand to within a 5 per cent margin of error. On-going research is looking into the utility of ITD to predict log grade and wood quality.
Individual tree detection will also provide valuable input to a planned phenotyping platform for future research into genetics, tree breeding and forest management; critical for supporting the forest industry's productivity enhancement goal.
"These technologies are ideal for New Zealand conditions where there is predominantly a single species grown commercially," says David. "This is not the case internationally where mixed species make it difficult to remotely assess resources. However, it is likely our software can be adapted to solve this issue for global clients."
For further information:
Dr Michael Watt:
Show email
Dave Pont:
Show email