Keeping track of spray applications
Scion's new precision track sprayer provides a novel approach to conducting spray deposition research.
The sprayer boom can currently reach speeds of up to 18 km/hr, with the 12 metre track able to be extended in the future to potentially allow for greater speeds that better represent aerial spray applications. The track sprayer gives scientists the ability to adjust spray release speed, droplet size, canopy type and density. Using dye tracers and artificial collectors, scientists can determine droplet penetration and spray deposition in and on plant canopies.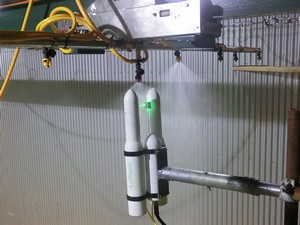 "In addition, we use images captured by a fish eye lens to quantify and characterise plant canopies. Spray droplet spectra are measured by either a laser diffraction particle size analyser or phase-doppler interferometry, says Stefan Gous, pest management and application technology scientist. "The new facility is already attracting considerable interest."
Data from the track sprayer will increase our knowledge of spray deposition and help to improve AGDISP, a computer spray deposition model developed by the US Forest Service. Forest protection scientists recently used the AGDISP model to assist MPI with developing an effective aerial spray programme for the Eucalyptus leaf browser beetle.
Contact Stefan Gous:
Show email