New technologies for improved forest safety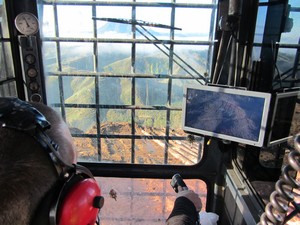 Three new forest harvesting technologies developed by Scion, in conjunction with industry, will help improve workplace safety in forestry.
Sadly, there have been six fatalities in forestry this year alone, well above the national average. The Ministry of Business, Innovation and Employment (MBIE) is working with forest owners and workers to implement a new code of practice aimed at raising the bar for workplace safety, and the industry itself has identified the long-term solution is for increased mechanisation.
Developed in response to this demand, our forest harvesting technologies are making significant inroads into helping the country's third largest export earner achieve these goals, and reduce its workplace injury toll.
Planning for greater certainty
The Cable Harvest Planning System (CHPS), developed by ATLAS Technology in conjunction with Geographic Business Solutions, is a modern software system that breathes new life into tried-and-true physics.
"Payload analysis for cable harvesting is not new," says Jeremy Snook, business analyst at ATLAS. "While similar systems have been developed in the past, CHPS is the first to be directly integrated into GIS - geospatial software which is one of the forest manager's core tools. This provides easy access to detailed information about the terrain, while allowing seamless transition to other day-to-day forest management activities such as harvesting, as well as log yield information.
"Much of the forest due for harvesting was planted in the early 1990s on steep, erosion prone land. It's too steep to use ground-based mechanical harvesting equipment so must be harvested using cable haulers. Planning these harvesting operations is challenging and ensuring the safety of the ground crew is paramount."
Tailholds need to be positioned for maximum hauler reach and payload. Repositioning a tower is costly particularly on combinations of steep terrain and some soils. CHPS uses geospatial terrain data (for example, derived from LiDAR), hauler and rigging characteristics, such as tower height and cable breaking strain, and then applies robust, well established science to determine the best positioning of the tailholds to achieve maximum payload.
"CHPS translates rich terrain data into usable information, equipping contractors with a better knowledge of any constraints they may be faced with, such as where hauler vision will be restricted. This helps forest managers and harvesting contractors find optimal locations for the hauler pad and identify solutions along extraction corridors, plan upfront for any safety issues and help them set contract rates.
"This provides greater certainty, enabling more informed risk management for contractors and forest growers."
Grappling with safety issues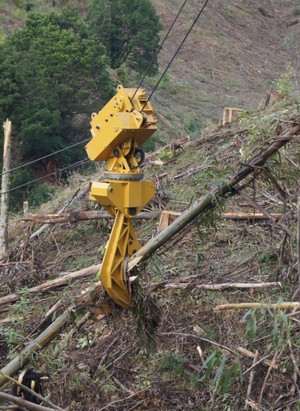 Breaking-out is responsible for an estimated 40 per cent of forestry-related accidents. Breaker-outs, crew members who attach cables to felled trees ready for extraction and who shift hauler cables once a corridor of trees has been extracted, are continuously wrestling heavy chains and hooks, often on steep, debris-strewn land. They are constantly at risk from falling trees, swinging stems and dislodged debris.
Scion, with Future Forests Research (FFR) and commercial partner Alpine Logging have built a prototype hydraulic-based hauler grapple designed specifically for New Zealand conditions that will make grapple yarding technology more accessible for steepland, high risk extraction. Designed to work on both swing and tower haulers, the grapple's improved carriage design and control will enable more contractors to adopt the technology.
"The grapple builds hydraulic pressure as it moves up and down the cables, which is used to manipulate the grapple arms," says Spencer Hill, research leader for harvesting and logistics. "The non-motorised operating system makes it lighter, low cost and cheaper to run than conventional, motorised models."The grapple can be controlled remotely by the hauler operator. Because it can be rotated it can pick up the trees better, and pull trees out of gullies where it's simply too dangerous for people. This ultimately means a far safer hauler operation."
Zooming in on operations
Also designed with safety at the forefront, is the innovative hauler vision system, the CutoverCam, developed by Scion for FFR.
"Steep terrain often makes it difficult for the hauler to get a clear view of the break-out zone," says Spencer.
"The CutoverCam uses wireless security camera technology to emit high frequency video of ground operations, and the breaker-outs, back to the hauler operator. "
The hauler can operate the camera remotely - pan, tilt and zoom in, to gain a clear view of ground operations from the screen mounted in the cab. Instead of relying on hand held radios and talkie tooters to signal what's happening, the hauler can see directly what's going on and respond to that."
Recent feasibility studies show the camera is beneficial in grapple and rigging positioning, heightening response time to problems, and avoiding stem hang-ups and breakage on stumps thus reducing maintenance costs.
For further information.
CHPS was developed by Geographic Business Solutions with assistance from Scion. www.cableharvesting.com