Award winning science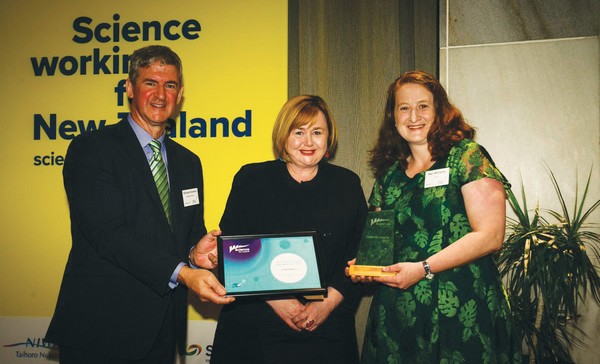 Industry, peers and colleagues have all recognised our high achieving scientists in what has been a busy awards season.

The forest growers of New Zealand presented two Scion staff with Forest Growers Research awards. Carolyn Andersen was presented a contribution to science award for her work managing the permanent sample plot database, which stores over 100 years of tree growth data and is crucial to many research projects. Economist Dr Richard Yao received an award for enhancing sector value for his work to recognise and give an economic value to the ecosystem services provided by forests.

At the inaugural Science New Zealand (SNZ) awards Dr Nari Williams took home an early career researcher award for her work in forest diseases, particularly Phytophthora and leading the Healthy Trees, Healthy Futures programme to defend our forests and horticultural crops from present and future Phytophthora diseases.

Forest research veteran Dr Dave Cown, received a SNZ lifetime achievement award for his wood science research. In the 40 years Dave spent at Scion (then the Forest Research Institute), Dave was responsible for creating the Wood Processing Research Group that developed the drying schedules now used by most of the softwood industries across the southern hemisphere, including the Dryspec™ Control system.

Scion's world-class Biosecurity Team picked up a SNZ team award acknowledging their successful management of several new-to-science diseases and development of a forestry biosecurity surveillance system considered by overseas experts to be the best in the world.  

Congratulations to Mark Kimberley on winning our Roger Newman science excellence award. Mark has developed growth and yield models for New Zealand's plantation forest trees, forest inventory models and calculations of carbon stocks in New Zealand's forests. These are widely used by industry and government and have led to numerous highly-cited publications.

Congratulations to all for these well-deserved wins.