3D printing brings kūmara history to life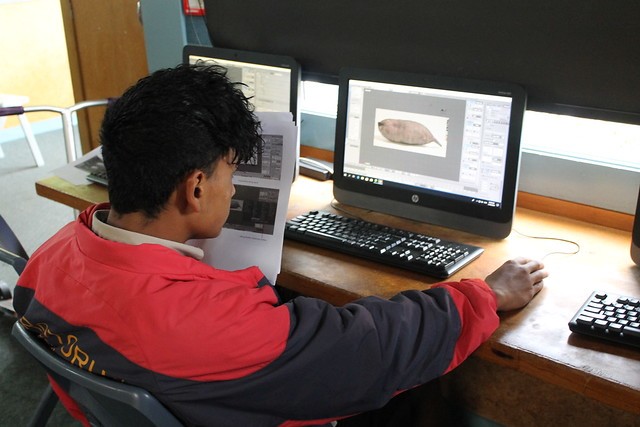 The humble kūmara has a special place in many Kiwi households, but its place in history and importance to Māori is less well known.
Scion is working with Kai Rotorua and Rotorua Boys High School to bring kūmara history to life.
Beginnings
Te Arawa stories tell of the kūmara voyage from Hawaiki to New Zealand in the kete carried by Whakaotirangi. Despite trials at sea, most of the kūmara varieties stored in the kete made it to Maketū, and on to Mokoia Island in Lake Rotorua. There, kūmara flourished in the gardens of Te Arawa settlers.
These beginnings formed part of the kōrero led by Te Rangikaheke Kiripatea of Kai Rotorua in this project. Kai Rotorua is a non-profit organisation that has been working to reconnect people with Papatūānuku, and create a resilient, well nurtured, well connected community.
In 2016, Kai Rotorua initiated a project with Rotorua Boys High School that connects learning about kūmara history and mātauranga with hands-on learning about growing and harvesting. This year, Scion joined the team to add our 3D printing capability to the project thanks to funding from MBIE's Unlocking Curious Minds.

"To grow and harvest the kūmara. To grow the tipu (seedling). That's how it began. But there was something else inside of that mix. We needed to reach our young men at another level and that was Unlocking Curious Minds, which meant taking their learning to that other level. Another sphere. Tapping into the science of it, where our students, including iwi Māori through them, remain connected to this taonga. Unbroken," says Te Rangikaheke.
3D modelling
Dr Roya Rezanavaz is leading the project team for Scion. Her experience in 3D modelling and printing of complex geometries with different types of 3D printers brought her to the project. Roya says, "We want to provide students with a practical opportunity to engage in science and technology using their own cultural heritage and show them how to become a bridge between western science and mātauranga Māori."

After harvest, students attended history tutorials with Te Rangikaheke and then went on to 3D modelling and 3D printing workshops led by Roya and colleagues Drs Dawn Smith and Ali Nazmi.

Ali explains, "Our work with the boys will help get a basic understanding of how to use 3D modelling software, to model kūmara and prepare a model for 3D printing. This will hopefully get them excited about science and technology."

The next steps are for the models to be printed in Scion laboratories using the corn-based biopolymer PLA.

Restoring connection
Te Rangikaheke believes that the simple activity of planting kūmara can be a tool to restore connection to Papatūānuku and can help the young men to maintain a sense of themselves amongst today's complicated and stressful lifestyles.

"Indigenous food is a great connector for these boys, it helps to stabilise them in their lives and presents challenges of its own, but they're challenges that can be easily met. The idea is to allow the boys the opportunity to continue to engage in this process.

"When the boys came out to help harvest, I lined them up and said 'go down on your hands and knees and look for kūmara' and they were right in there. That's Papatūānuku, reaching in and drawing people to her," he says.

Now students like Taipari Walker can benefit from their knowledge. "I liked learning how to harvest kūmara out of the ground properly, knowing you don't just rip it out of the ground and just learning what our ancestors back in the day did. And this (3D modelling) is my bread and butter, this is what I like doing. Computers and tech, I've been enjoying this, learning about what I can do."

Fellow student Jacob Rawles echoed his comments, "I like the link to the science and the Māori side. It's cool to be part of the kaupapa."

Rotorua Boys High School Teacher Tiahomarama Fairhall said the project was of great help to the boys. "Just in this short time, I have seen the benefits of Te Kete Rokiroki, especially in regard to the boys learning to harvest kūmara, learning how their ancestors grow and plant food and also adding the science of it."

After the kūmara models are 3D printed, Kai Rotorua will use them to depict different kūmara varieties in their planned kūmara museum.

For further information on Scion's role in this project, contact