Indigenous worldviews and the circular economy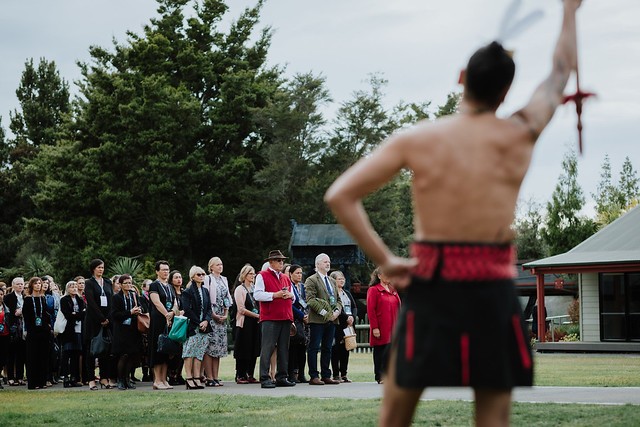 What new approaches can we unlock when contemporary economics meet indigenous worldviews?
This question formed a key theme at the Ōhanga Āmiomio Pacific Summit (the summit) hosted by the Ellen MacArthur Foundation (EMF) and the Ministry for the Environment in partnership with Scion and Te Arawa.
EMF are global leaders in circular economy thinking and the summit was their first foray into the Pacific. They brought together Māori, Pasifika, circular economy leaders, speakers and storytellers – all in aid of facilitating a new economy that has designed waste out.
Scion has long been promoting the benefits of a circular bioeconomy and was proud to be a key partner and co-organiser of the summit.
Mātauranga, materials and manifestos
The day had three themed sessions - mātauranga, materials and manifestos.
Kōrero on mātauranga focused on shifting emphasis from caring about the environment, to caring for the environment. Using an introduction to te ao Māori, environmental activist Teina Boasa-Dean gave an example of a social-political framework where people and nature are considered as one, and humans become relevant because of their connections to the natural world.
Teina was backed by Leilani Unasa, Systems Design lead at the Cause Collective, who expressed the need for a new evolution on the inherently human-centric, co-design methodology. She spoke of a design approach based on wairua to complement co-design methods and make space for a wider range of considerations.
This call for an evolution on the ideology was also applied to the circular economy itself. "I have a problem with the metaphor of the circular economy," said Traci Houpapa, Chair, Federation of Māori Authorities. "I believe in the spiral economy where there's regeneration and growth." Traci went on to capture the essence of the session when she said, "It's about the western world catching up."
The session on materials saw business and regulatory leaders give examples from the Pacific, where the issue of plastics pollution is complex, urgent and visible, to inspire others to design a better system in which plastics never become waste.
Leota Kosi Latu, Director General, Secretariat of the Pacific Regional Environment Programme, kicked off the manifestos section of the conference with a plea to widen people's knowledge of the circular economy. "Many of our countries have now adopted legislation and policy but what we need to do is go further, beyond that, we need to start mainstreaming the circular economy into our budgets, into our planning, just as we have done with climate change."
From theory to practice
Following the conference, an event hosted by local Te Arawa groups took the theories and indigenous values expressed on day one, and breathed life into them.
Te Arawa hosted 50 participants to see, feel and experience some of the ways Te Arawa people are using circular economy values in their rohe.
Hamurana Springs is one such example. Hamurana Springs is a new Māori-owned ecotourism business, at the site of a formerly polluted waterway that is now pristine and home to many native species. The springs were one of a number of sites that allowed summit attendees to have deeper conversations, link problems with real-life solutions and explore new applications and interpretations of circular economy thinking.
Nelson Meha, Business Development Associate at Scion, says, "The term circular economy may not come naturally to te ao Māori, but in terms of what that means and in practice – we do it."
He says, "Whakaaro Māori naturally lends itself to the circular economy."
Following the summit
Following the summit, Scion will be looking to continue the momentum. Having established a relationship with EMF, Dr Florian Graichen, Scion Science Leader Biopolymers and Chemicals, will now present at the annual Ellen MacArthur Summit in London.
Meanwhile, Scion will continue to build support and accelerate the transition to circular bioeconomy for New Zealand through our thinking and practice.