Greater flexibility for quarantine treatments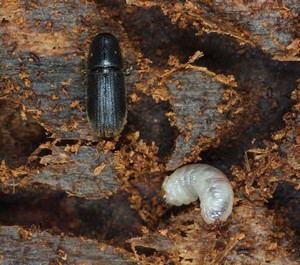 Some of the tight scheduling pressures around log exports for ports and log marshalling companies have been eased, thanks to Scion's forest protection scientists.
In June this year, the Ministry for Primary Industries (MPI) extended the maximum post-fumigation exposure period for export logs during winter from 72 hours to 21 days for all of New Zealand ports except Northland. This is the period logs can be held after fumigation before having to be re-treated due to the risk of re-infestation.

The decision, which was based on Scion's on-going research into phytosanitary pest behaviour, will have huge economic benefits for the export log industry.
At present New Zealand's international trading partners require log exports to have approved treatments applied year round. Research Leader Dr Steve Pawson says the extended post-fumigation exposure period is a positive step towards achieving a treatment free, low risk winter period and responding to mounting global pressure to reduce the use of methyl bromide, a widely known and accepted phytosanitary treatment.
"Our forest protection scientists have been gathering information on distribution and population levels of forest pests throughout the country for the past two years," says Steve. "We have installed traps at forest sites and ports around the country, and the data we collect on insect flight activities are matched with meteorological conditions. This pest activity data supports MPI's decision-making on post-fumigation exposure periods."
The new regulation provides log marshallers with far greater flexibility to schedule fumigation treatments between periods of bad or cold winter weather. It will also largely eliminate the need to fumigate a buffer volume of logs, traditionally up to 5% of the cargo.
"Extending the time between having to re-treat logs means we will reduce costs in the supply chain and have more flexibility around getting our goods to market," says Don Hammond, Chairman of Stakeholders in Methyl Bromide Reduction (STIMBR). "Importantly, we can also improve our environmental performance. These are all of great significance to the forestry industry. The sector can build on this achievement and apply it across other export products.

"Vitally, this once again confirms the credibility of New Zealand's science in the eyes of off-shore markets and government agencies. We can't underestimate the value of that."
For Steve though, the next step is a real-time assessment of risk. "This was a very warm winter and a serious test to the concept of a winter fumigant-free period.

"Pest trapping will continue to expand our data bank. Long term, we want to use these data, information on landscape composition and forest harvesting activity to develop a model that can predict the risk of pest infestation at any location and at any time. This will allow decisions on treatment to be based on an assessment of the actual risk. We also want to see how we can apply these data to Northland, which currently handles about 15% of the country's log exports.

"Further work will involve expanding this pest-free period out of the port and into forests where we can in the future, confidently dispatch logs straight onto the ship without having to fumigate. Forest management activities will play a key role in this."
Having a three month fumigant-free period has the potential to save industry millions in averted fumigation costs and will protect New Zealand's access to overseas markets for forest products.
Scion would like to acknowledge the support of MBIE, STIMBR, and the Primary Growth Partnership fund for supporting this programme.
For further information:
Don Hammond