Rapid screening for Phytophthora pathogens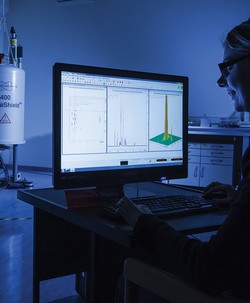 Work is underway to develop rapid screening methods for Phytophthora pathogens in radiata pine, apple species and kauri as part of Scion's 'Healthy trees, healthy future' programme. Metabolomics is one such method, which screens for changes in a plant's metabolites that may indicate infection. This approach combines nuclear magnetic resonance (NMR) and mass spectroscopy to identify indicator chemicals in plant extracts, and changes to these chemicals, for rapid and cost-effective diagnosis.
NMR data provides a characteristic chemical fingerprint that can detect if a plant is in a healthy state or is being challenged by, for example, a pathogen or an environmental factor. NMR data is used to detect the class of compounds that are changing; this is then explored further using mass spectroscopy to identify the individual compounds.

Scion has recently expanded NMR sampling capacity with the purchase of two new cryogenic grinders. The grinders can pulverise leaves, needles, roots and wood tissue rapidly making it possible to analyse around 50 samples a day.

Using these methods to screen metabolites in both healthy and infected plant tissue will help identify genetic markers, or indicators, of infection. Ultimately, when combined with genetic studies, this new knowledge will help tree breeders select for greater Phytophthora resistance.

For further information
Contact Dr Stefan Hill at Show email