Educating next-generation scientists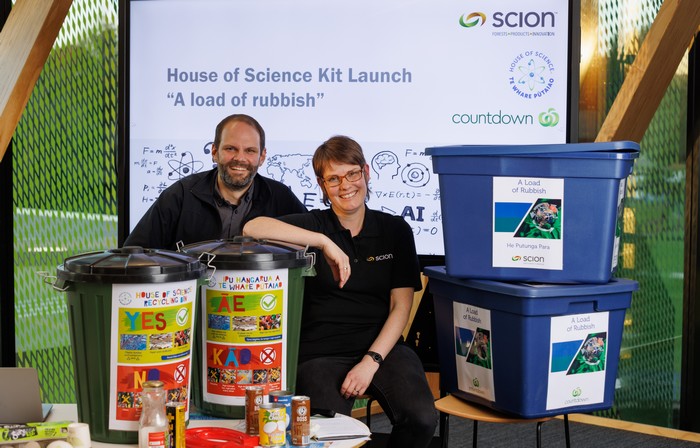 Scion's Eva Gaugler is among a team of New Zealand scientists who have been recognised for contributing to the House of Science's success on the international stage for chemistry education.
House of Science, a charitable trust, was awarded the 2022 Royal Society of Chemistry's (RSC) Horizon Prize for Education in November for their entry Equity and Excellence: Bilingual Science Resources for NZ Primary Schools. The award acknowledges the development of a vast library of hands-on, bilingual science resource kits that enable thousands of primary school teachers across New Zealand to deliver life-changing science lessons.
Forty science resource kits have been rolled out over the past eight years, 15 of which have a strong chemistry focus.
Jane Hoggard from the House of Science developed the kits in conjunction with Eva Gaugler at Scion, Laura Kearney at the NZ Agricultural Greenhouse Gas Research Centre and Mike Bunce, Ham Davidson and Vanessa Crow from the NZ Environmental Protection Authority.
Specific kits that showcase chemistry in the circular economy include A Load of Rubbish with activities focused on sustainable ways of making and remaking new products with a focus on designing out waste. Gaugler was the Scion lead in the kit's development, launching it in July 2022 at Te Whare Nui o Tuteata in Rotorua.
Other kits include Climate Change which features eight interactive activities to help students become better informed and empowered to care for our planet, and Who's Been There – a kit which explores the composition and structure of DNA and highlights its use as a biodiversity monitoring tool.
The kits reach more than 150,000 school children across New Zealand each year.
The RSC's annual awards celebrate ground-breaking innovations and initiatives that acknowledge exceptional contributions towards chemistry education.
Gaugler says the resource kit library is completely unique.
"Nowhere else can teachers have a science resource kit delivered to their classroom, with all the equipment, instructions and consumables needed to deliver engaging hands-on lessons linked to the curriculum and current scientific research.
"These kits are designed to empower teachers who often lack the confidence to teach science. They are the complete package and are easy for teachers to use, regardless of their background."
She says the vision behind the A Load of Rubbish kit and others is to help Kiwis do the right thing and make steps towards a circular bioeconomy.
"By using the resource kit and applying scientific principles, students will learn how to identify and solve environmental problems, sparking an interest in sustainability.
"As a result, the students will be able to make informed choices on sustainable packaging materials and their end-of-life as well as, hopefully, develop a life-long passion for science."
House of Science CEO Chris Duggan says she is proud of the team for all their efforts.
"This award is so well deserved. Careers in science, technology, engineering, and mathematics (STEM) are at the heart of many future workforce requirements and underpin the transition to a climate-resilient, sustainable, low-emission economy.
"By the age of 10, most children have formed a strong impression of careers they can envisage themselves doing. If science has not been part of their lives by this age, the chance they will follow this pathway is slim.
"Empowering primary school teachers to deliver engaging science lessons will ensure a workforce with the necessary skills to embrace and support the future of work."