Kete of work underway to combat myrtle rust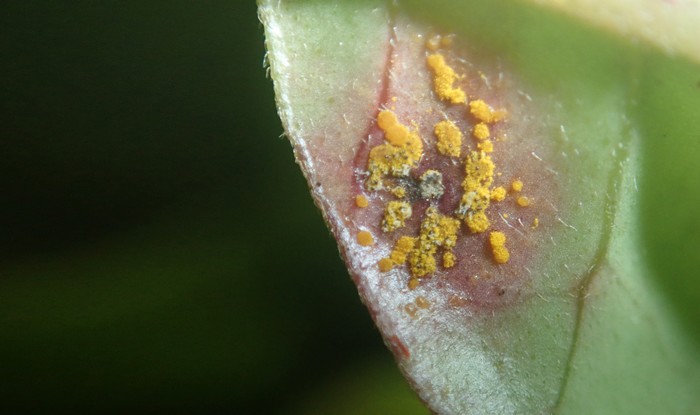 More than 30 researchers at Scion are working towards protecting our most abundant myrtle species from myrtle rust.
The wind-borne fungal disease poses a threat to our most iconic plants in New Zealand, pōhutukawa, mānuka, and rātā, as well as commercially grown species such as eucalyptus.
Myrtle rust was discovered on mainland New Zealand in 2017. The disease causes bright yellow-orange powdery pustules on young leaves, shoots, fruits, and flowers of plants in the myrtle family, causing a deformation of the leaves and shoots, and twig dieback. Repeated severe infections can cause decline or death of large trees.
Scion researcher Michael Bartlett explains that while myrtle rust will be impossible to eradicate from New Zealand, a portfolio of work is under way at Scion to help manage the impact and protect our native and exotic myrtle plants. Some of the work happening in this area is highlighted below.
Nursery mahi
Can hyperspectral imagery and thermal imagery detect myrtle rust before the naked eye? Preliminary results are looking promising.
Funded by Scion's Strategic Science Investment fund, myrtle rust projects are underway in Scion's nursery. Scion's pathology, remote sensing and GIS teams have been working together in the containment laboratory to determine if myrtle rust in a very susceptible host (rose apple; Syzygium jambos) could be pre-visually detected using hyperspectral and thermal imagery.
Preliminary results show that hyperspectral indices could be used to correctly identify infected plants prior to the appearance of the first visual symptoms. This research provides the first step towards developing tools that will help nurseries to detect and manage this disease.
Scion is also looking at the management of myrtle rust in the nursery, comparing different fungicide application regimes to see how effective they are at controlling the disease on a range of hosts. The project is being co-led by researcher Kwasi Adusei-Fosu and nursery technician Anita Wylie.
Adusei-Fosu is also leading a project aiming to gain insight from the industry, surveying nurseries around the country in partnership with New Zealand Plant Producers Incorporated (NZPPI) to determine the impact of myrtle rust and what growers are doing to manage the disease.
Natural enemies of myrtle rust
A key project within this portfolio focuses on two known natural enemies of myrtle rust in New Zealand: a rust-eating fly called Mycodiplosis constricta and a fungus called Sphaerellopsis macroconidialis.
The first of the natural enemies, the rust-eating fly, was discovered in 2018 when Scion researcher Roanne Sutherland found larvae eating myrtle rust on plants in Rotorua. The recently discovered fungus, found by Scion researchers in Taranaki and the Kaimai-Mamaku ranges in the Bay of Plenty, is the second known natural enemy of myrtle rust in New Zealand.
Bartlett says natural enemies are one of the tools scientists hope will suppress the devastating effect myrtle rust can have on myrtle plants in New Zealand, in addition to other options, such as chemical fungicides.
"We still have a lot of questions, and we don't know much about the biology of either of these organisms so there could be years of research to come."
The project is led by Scion researcher Andrew Pugh and funded through Scion's Strategic Science Investment Fund.
Monitoring of disease impact and seasonal progression
Scion researchers Julia Soewarto and Michael Bartlett have been leading monitoring of myrtle rust's impact and seasonal progression in nine locations across the North Island for three years.
Researchers have focused on ramarama and rōhutu and have also been checking pōhutukawa, mānuka, rātā, and maire tawake for symptoms.
Funded by Ngā Rakau Taketake and Beyond Myrtle Rust, researchers have been tracking the disease and its impact on the same trees over time.
The main finding from this research looking at the major decline in the health of rōhutu and ramarama trees shows an increased level of dieback and a reduced amount of new growth and production of flowers and fruit.
"We know very little about the ecology of ramarama and rōhutu trees, and the wider impacts that myrtle rust is having" says Bartlett.
To provide a better picture of which species are at risk, Scion researcher Andrew Cridge is leading a project, funded by Ngā Rākau Taketake, that is using eDNA to determine which insects visit and pollinate flowers on these threatened trees.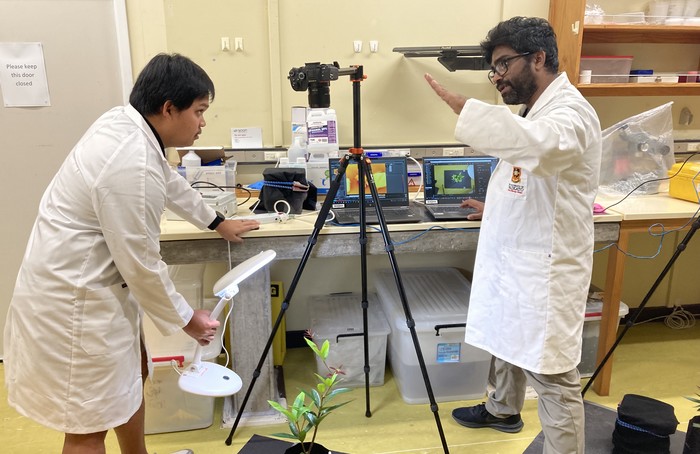 Myrtle rust adaptability
Hundreds of myrtle rust samples collected by Scion researchers are being tested by sequencing provider AGRF in Australia to understand how adaptable the disease is in New Zealand to new hosts or changes in the climate.
In addition, researchers are also interested in the pathogen's life cycle as sexual reproduction and the rearrangement of genetic material that occurs can create diversity in populations. Researchers do not understand what the drivers of sexual reproduction are yet, with further projects underway in Australia and New Zealand.
This body of work is funded by Beyond Myrtle Rust and led by Michael Bartlett and Stuart Fraser in collaboration with the University of Queensland and the Department of Agriculture and Fisheries in Queensland.
Interactive learning
Scion has been successful in securing Unlocking Curious Minds funding to develop a Te Reo Māori myrtle rust interactive learning app, Patua te Tukumate Rāwaho (Myrtle Rust Busters). This aims to inform and equip next generation kaitiaki with tools for understanding myrtle rust impacts in the ngahere (forest). Development of the app was due to start in Feb 2023 and will involve identified kura (schools) in the design and implementation. The app will be available publicly once launched at the end of 2023.
Boosting awareness
Community awareness and understanding of socio-cultural impacts of myrtle rust are limited. Scion social researchers have been funded through projects within Ngā Rākau Taketake to undertake social research that better prepares communities for responding to myrtle rust. These projects are working at the interface with mātauranga Māori and science knowledge to support care for trees and appreciate the social and cultural significance of myrtaceae species.
Postcolonial Biosecurity Possibilities is a project within Mobilising for Action, exploring relational values of people and trees to better position relationships of tree care based on shared values. The team is exploring how to address colonial bias in research, policy and practice by attending to relational aspects such as inclusivity, regeneration and responsibility.
The project is an interorganisational collaboration between three New Zealand CRIs (AgResearch, Manaaki Whenua Landcare Research and Scion) and social researchers from University of Cardiff and UK Forest Research, co-led by Scion's Andrea Grant.
A second project, He Taonga Ke te Ngahere, is led by Massey University Centre for Indigenous Psychologies also under the Mobilising for Action theme. It is working with hapū to raise awareness of myrtle rust in their ngahere (forest) by looking at different perspectives of causality to link knowledge and action for myrtle protection.
Scion researcher Andrea Grant has supported the project through interviews with scientists and science communicators to create a video and visual resources to engage hapū in the project.
---
For more information, please contact Michael Bartlett