Paua Power on a screen near you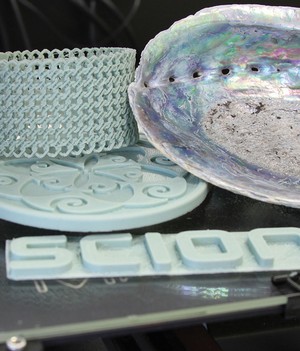 The crew from television series Rural Delivery visited our Rotorua campus to film an episode on our 3D printed bio-plastic containing pāua shells.
The episode covers the journey from inception to production. It all began when Scion researchers approached the pāua aquaculture farm OceaNZ Blue, keen to investigate the properties of pāua shells. For OceaNZ Blue, sustainable aquaculture practice is an important part of their brand and company ethos. Teaming up with Scion to develop a value-added product or process for their pāua shells aligned with their vision.
Pāua shell is a 'side stream' of the food industry and currently sold off cheaply to overseas processors who convert them into decorative veneers, powders for cosmetics and homeopathy treatments. Some of these products are then exported back to New Zealand.
Biomass side-streams, like pāua shells, are often overlooked. As by-products, they are sustainable resources and offer new economic opportunities for industry. Scion is continuously advancing the fundamental research to convert primary industry side-streams into value-added products that contribute to, and reinforce, a sustainable bioeconomy.
TV One aired the Pāua Power episode on 3 December – it is available online through the TVNZ on demand service.

For further information
Contact Dr Marie Joo Le Guen, Biopolymer and Chemicals Scientist at
Show email