Speaking on an international stage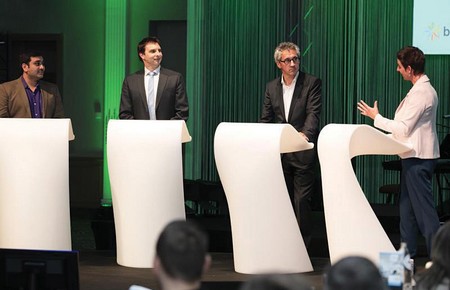 Dr Florian Graichen (second from left) speaking at I-SUP 2016.

Scion staff have been on the road presenting our work to new markets.

Thanks to the wonders of globalisation, there's a whole world of opportunities for our research outputs. To make our research as useful as possible, our teams have been out presenting to new audiences about the ground-breaking research we carry out.


Bioproducts on tour in Europe
Europe is one of the world's biggest markets for bioplastics and biopolymers. When the opportunity to speak at several European bioplastic events arose, Florian Graichen, Science Leader – Biopolymers and Chemicals, got on a plane to promote Scion's biomaterials work including award winning biobased adhesive technology Ligate™.

"By working closely with international partners, we're able to take our products to a bigger market and increase their impact, helping us to keep New Zealand bioplastics at the forefront. It's a competitive business, but Scion is a unique partner because we have in-house expertise on everything from genetics to manufacturing of bioproducts," says Florian.

We can use our situation to our benefit, by working closely with established processing plants in New Zealand. "We're working with manufacturers here, who have allowed us to use the equipment they rely on every day, to bring our products to tonne scale. For a new partner, knowing a product can be made in this amount is significant and the possibility of not needing new infrastructure to do that makes our proposition much more attractive."


Packaging research on display
Tappi is America's largest corrugated box expo and the perfect place for Materials Scientist Saad Hussain to connect with people who could benefit from his research. Saad was one of a small number of technical experts presenting at Tappi and he used the time to profile his research on improving the lifetime of boxes.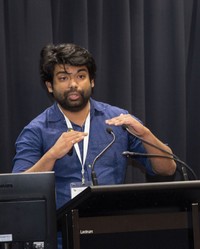 Dr Saad Hussain presenting packaging research.
Saad says, "We're focused on research that will have practical applications. So it was great to get out there and see so many box makers interested in what we're doing.

"Creep is an issue that happens to every box and it costs the industry billions of dollars. Food is packaged for a long time – some fruit is stored in boxes for up to a year, and frozen food for up to two years. In that time some boxes will fail, but we have a facility that can start to solve the problem.

Our WHITE (Weight, Humidity Intervals, Temperature and Experimentation) Room testing facilities is the biggest independent testing facility of its kind in the world. Saad says "By making stronger boxes which last longer, they'll get used more and that helps us grow the forest based bioeconomy".
Forestry, climate change and China
John Moore was one of several Scion staff members to attend and present at the IUFRO Asia Oceania Regional Congress, in Beijing. IUFRO is the International Union of Forest Research Organisations - the main global network for forest scientists. In parallel with the congress Division 8, of IUFRO held its first congress, with the theme of "Forest environment under changing climate and societies".

John coordinated a session on wind disturbance and sustainability under changing climates, with Barry Gardiner from INRA in France. John also presented on the potential impacts of future climate change and the risk of wind damage to radiata pine forests in New Zealand.

This event is one of many contacts between Scion and China, including the recent signing of a memorandum of understanding with the Chinese Academy of Agricultural Sciences. In early December, Scion hosted a delegation from the Chinese Academy of Forestry.
For further information on Ligate™ and biopolymers contact
Dr Florian Graichen
On wind disturbance risk to radiata pine forests contact Peter Clinton