Research with an impact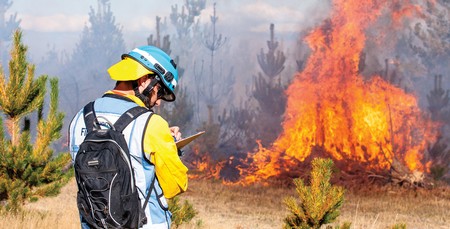 The UN Weather Agency has confirmed that 2011-2015 was the hottest five year period on record. Now more than ever, we have good reason to work closely with industry to deliver research that will have a big impact and prepare New Zealand's forestry and wood product industries for the realities of climate change in our future.


Preparing for extreme fires
Scion is teaming up with fire experts from the United States, Australia and across New Zealand to learn more about extreme fire.

Extreme fire can occur within any wildfire. It spreads rapidly and is unpredictable, making it especially dangerous and difficult to supress. New Zealand experiences approximately 3000 fires annually, wreaking over $200 million worth of direct and indirect damages, like lost property and productivity. As our summers continue to heat up and dry out, we can expect to see more extreme fire activity. The team has been awarded $8.75 million over five years, from MBIE's Endeavour Fund to carry out this work with US Forest Service Missoula Fire Science Laboratory, University of New South Wales, San Jose State University, US Forest Service Pacific Northwest Laboratory, University of Canterbury and Lincoln University.

Senior Fire Scientist Grant Pearce says, "By understanding what causes extreme fire and when it might happen, we can give fire managers new information about what they're dealing with. They'll be able to use that information to make decisions about where to send resources and how to manage fire fighter safety".

Communities, the natural ecosystem and primary industries will also benefit from research findings that can be applied to fire mitigation and preparation activities.


Climate change and forestry research review: making the most of what we've learned
Forestry is being hailed as one of the primary ways New Zealand will offset greenhouse gas emissions in the future. With all this attention, now is a good time to take stock, know what research we can arm the forestry industry with and identify where gaps in knowledge lie.

Andrew Dunningham and his team have been awarded $250,000 from the, MPI Sustainable Land Management and Climate Change (SLMACC) Research Programme to do just that.

Andrew says, "This is a great chance to really demonstrate the value and impact of the existing research to the industry and the public and to showcase forestry as an option to mitigate for climate change".


Would a carbon forest work on my farm?
That is the question that Scion Senior Scientist Steve Wakelin is trying to help New Zealanders answer with $230,000 from MPI's SLMACC fund.

Planting a forest is a long term commitment and can be a hard sell for land managers who are unsure of the benefits. Steve's team will be working on a raft of measures that will help land managers evaluate small scale carbon other land uses, such as dairy or sheep and beef farming.

Steve says, "Our goal is to help people make informed decisions. The work we're going to do will help landowners assess what's best for their land".


Creating biobased high performance plastics
Imagine that your next electronic device contained plastic material made in New Zealand from renewable materials. Now imagine that plastic was created by feeding a small army of microorganisms that produce the polyester.

The Bioinspired Aromatic Polyesters project has been awarded $1 million over two years from the MBIE Endeavour Fund to develop the microorganisms that mass produce aromatic polyesters. The nonfossil fuel origin of these new aromatic polyesters make for a 'green' plastic material sustainably produced from wood.

These high performance, hard wearing bioplastic products can be used in everything from high-value electronics to sporting goods. Our success could lead to a new high performance bioplastics industry for New Zealand.


Make wood not love
Studying reproduction in radiata pine is no small challenge. Trees take between 6 to 8 years to reach reproductive maturity and producing research results can take over a decade. But this research is much needed. Elsewhere in the world, foresters have been using genetically engineered (GE) trees to boost their
productivity. Sterile trees will help to address the social and environmental concerns about growing GE trees in New Zealand.

This $1 million project will test new biotech-based methods to produce sterile conifers using the early and densely flowering model conifer species Pinus densiflora. This will speed up the testing process and allow testing at a rate not possible using commercially important conifers like Pinus radiata. Controlling reproduction would also mean that sterile trees could be safely field-tested, with no risk of spread. The success of the project could enable forests with shorter rotation times, greater wood volume, improved quality and no wilding pines – potentially adding $6.5 billion to New Zealand's GDP by 2051.