Ticking all the boxes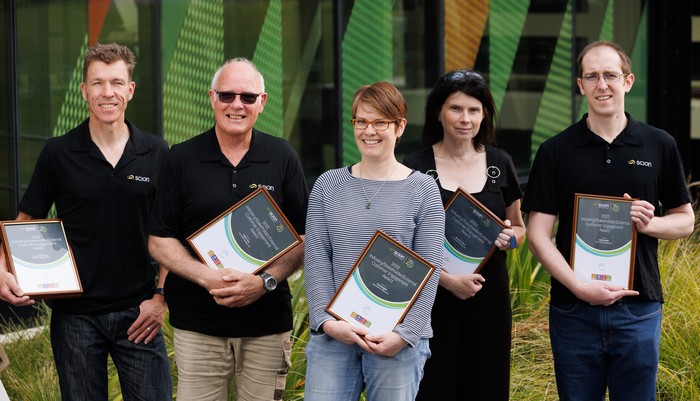 With talent for scrutinising complex regulations and a desire to support New Zealand businesses to meet their sustainability goals, Eva Gaugler and Miruna Petcu are in their element working in Scion's Zespri Packaging Team.
As part of a secondment that started in July 2022, the scientists are working to deepen Zespri's knowledge and understanding of food contact regulations to ensure its packaging remains all-market compliant for export. Their work is pivotal in keeping the kiwifruit exporter up to date with global sustainability trends for packaging and changing regulations across multiple markets that Zespri ships to. This informs Zespri's decision-making and ensures innovation efforts are aligned with global realities, securing its ongoing commercial success.
Lack of compliance is a huge risk that, if left unmanaged, could lead to product delivery delays or, in extreme cases, loss of whole export markets.
The responsibility that comes with the role isn't lost on Gaugler who learned the art of reading regulations and determining what tests are required to meet them while working as a chemical engineer in Germany. It's a skillset that requires strong attention to detail and a curious mind.
"We examine the regulations for food contact compliance for each country, working out what's different between them and determining what tests each market needs for the packaging to be certified as compliant," says Gaugler.
"It's like being a detective and we love it."
Standards for the materials that come into contact with food (known as food contact compliance) differ from country to country. Rules around the chemicals and substances used in food packaging can also change over time as new information about their safety becomes available.
Gaugler says the food contact regulatory environment is incredibly complex and there is no such thing as a one-size-fitsall approach.
"Most markets have a list of allowed substances, but markets might differ on how much of each substance can be used in plastic packaging; there can be different limits. We usually find there are requirements for testing those substances. But we've learned that even if a lab can do a test, it doesn't mean it's always the right test with the right settings.
"Testing must be very fit-for-purpose for the product, the market and its application."
For Zespri, having support to navigate the complexities associated with global food regulations has been valuable.
Zespri's head of global quality and technical, Farzana Adams, says the secondment ensures that not only does any new packaging being explored meets Zespri's desire to be more sustainable, it also meets all regulatory requirements, including materials that can be used for direct food contact.
"The expertise Scion has provided has meant we've been able to better develop our knowledge and explore potential solutions efficiently, accurately and cost effectively."
Challenges for industry
Over the years, investment in research through the Government's Strategic Science Investment Fund has built up Scion's capabilities within its sustainable packaging programme, and now many food exporters and packaging companies come to Scion for advice on using new sustainable materials.
Zespri has benefitted from Scion's guidance since partnering on research to commercialise its biospife – an industrially compostable version of Zespri's iconic polystyrene spoon-knife. Scion developed the biospife formulation by combining kiwifruit skins with a bioplastic. But before Zespri could share its biospife with kiwifruit lovers around the world it needed to meet food safety standards and pass vigorous compliance tests.
Gaugler set up testing capability at Scion for the biospife project as well as other internal research and product development. She upskilled by attending conferences, webinars and talking to global experts.
In testing for food contact, we wanted to know we were measuring the right things."
While having the testing capability at Scion, external partners like Zespri use certified laboratories for food contact testing, relying on Scion's team for testing recommendations and guidance. The team is in high demand, as more companies are wanting to reduce their environmental footprint by developing more sustainable packaging.
However, Gaugler points out that while there is a global drive for more recyclable, sustainable packaging from consumers and industry, food contact regulations in many countries have been slower to respond to this changing environment.
"You can't just assume that hemp fibre will be ok to use in a packaging product – you need to check to make sure it's on the list of permitted substances in the country you are exporting to, and in what quantities it is allowed.
"For these reasons, some products that use new fibres and substances in packaging are taking quite a long time to enter the market. There's a lot involved first in getting these products approved."
It's also important to note that just because a substance can be safely consumed or applied to skin, its use as a food contact material may not always be permitted, she says.
"One of the biggest challenges facing packaging producers right now is finding more sustainable water-repellent materials, as some traditional plastic products contain substances that are getting banned.
There's a move to use more fibre-based food contact products, but how do you still get these to have all the properties that you need to repel water, store well and preserve its quality through the supply chain?
"Product developers everywhere are researching alternatives that perform a certain way, are cost-effective and meet the food contact regulations," says Gaugler.
Information-sharing supports research
Miruna Petcu joined Scion's Zespri packaging team three years ago, bringing with her research experience with plastics, knowledge of how to get products approved and has experience dealing with the European Food Safety Authority.
Together, Gaugler and Petcu tap into global networks where new regulatory information is shared, ensuring they stay across the latest developments, technologies and substances of concern.
Gaugler is a member of the Australasian Pulp and Paper Technical Association and serves on its food contact materials committee. Through Scion's involvement as a research partner with the New Zealand-China Food Protection Network and the New Zealand Food Safety Science and Research Centre, Gaugler secured funding in 2018 to travel to China. The visit was an opportunity to exchange valuable knowledge with scientists in China which, at that time, had adopted new food contact material regulations.
"Over the years we've made strong connections with people and there's a lot of information sharing, which we pass on to industry. We regularly attend workshops and technical seminars, so across all the connections we've made, if industry has any new questions, we'll do our best to find the answers."
Building capability
During the secondment, Gaugler and Petcu have gained an appreciation for Zespri's logistical and shipping challenges throughout the supply chain.
"Working closely with Zespri has given us insights into the commercial realities they face; there are good reasons why they do what they do. We understand those realities which help us to adjust our advice and solutions to any market challenges," says Gaugler.
"The partnership with Zespri is very valuable. Not only are we making sure that Zespri's packaging meets its obligations for food contact compliance, we're building Scion's capabilities all the time."
---
For more information, please contact Alec Foster