Scaling up advanced manufacturing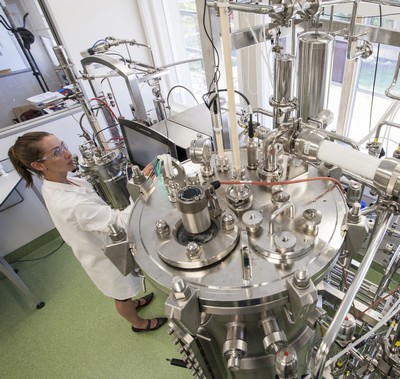 A $5.5 million laboratory upgrade at Scion houses new equipment that could help to blaze new trails for wood processors and manufacturers in New Zealand. The latest investment adds to a comprehensive range of scientific equipment and services for supporting industrial research using renewable resources.
Manufacturers of advanced materials and products need expert help to achieve innovation while reducing risk. Scion's unique combination of equipment and capability means that manufacturers can get all the R&D support they need on one site.
Scion's role in this sector is nothing new. Starting back in the 1980s with an industrial-scale mechanical pulping plant, Scion helped manufacturers of pulp and paper get ahead. This unique facility is now used to develop biorefinery technologies for producing biofuels and chemical co-products.
General Manager for Manufacturing and Bioproducts Dr Elspeth MacRae says Scion has invested heavily in growing this capability to a new level.
"We have just installed a fermentation laboratory that enables us to scale-up our industrial biotechnology capability. This facility will be used to research biological processes using micro-organisms," she explains.
Combined with the mechanical pulping plant, the fermentation laboratory (pictured at left) enables scientists to emulate key aspects of processing lignocellulosic material in biorefineries (see more). The ability to conduct large-scale experiments is crucial to demonstrating the commercial potential of new technologies.
"It is often difficult for investors to see the potential in ideas that remain in a laboratory. Our aim is to introduce the scale needed to evaluate product options and demonstrate viable opportunities to industry," Elspeth says.
Scion demonstrated the value of the scaled approach with TERAXTM, a waste management technology co-developed with the Rotorua District Council (RDC). A pilot plant was constructed at Rotorua's wastewater treatment plant in 2011 to test a process that was developed in a lab. The success of this scaled-up experiment has given RDC the confidence to scale it up even further. The Council has approved the design, and construction of a full-sized demonstration plant for the TERAXTM process will begin in 2013.
"We hope that by demonstrating biorefinery technologies at pilot scale, we can provide investors with similar confidence," Elspeth says. "New Zealand needs to take bold steps in developing new ways of creating sustainable products from renewable resources. Our purpose is to support manufacturers in taking these steps."