Rail trail a winner in timber design awards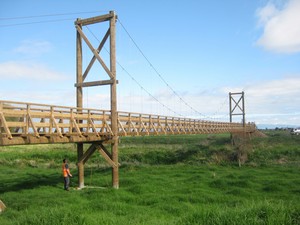 An historic railway route was given new life thanks to radiata pine, and was named the Sustainability Award winner at the NZ Wood Resene Timber Design Awards in October.
The Hauraki Rail Trail, part of Nga Haerenga, The New Zealand Cycle Trail, was recognised ahead of three other finalists in the sustainability category, sponsored by Scion. The category called for entries that showed a commitment to sustainability where there is a focus on timber, the carbon footprint, location of supply and/or energy efficiency.
Auckland-based Frame Group was behind the Hauraki Rail Trail and said radiata pine appealed because of the benefits over steel or concrete options, and the fit with ecological and economic objectives of Nga Haerenga. Traditional bridge styling with modern connection detailing and prefabrication methods produced 25 attractive bridges ranging in length from four to 75 metres.